Lunch box recipes
CURRY CHICKEN SALAD
2 cups cooked white-meat chicken, chopped or pulled
2 tablespoons almond slivers
2 tablespoons chopped dates
2 tablespoons honey
1 teaspoon brown sugar
1/4 cup onion, diced
1 tablespoon curry powder
Mayonnaise, as needed
Salt and pepper, to taste
Mix ingredients together, adding as much mayonnaise as needed to reach desired consistency. Season and chill. This salad serves well with cinnamon rice crisps as well as on sandwiches.
COLD SOBA NOODLES WITH CUCUMBER, SCALLION AND SESAME SAUCE
1 bundle soba noodles
Water, as needed
1 tablespoon sesame oil
3 scallions, cut on the bias
1/2 cucumber, peeled and sliced
Sauce:
1/4 cup peanut sauce
1 teaspoon tamari or soy sauce
Splash sesame oil
1/2 teaspoon oyster sauce (optional)
Pinch of sesame seeds
Cook noodles as directed. Run noodles under cold water to cool, toss in oil. Mix in scallion and cucumber. Drizzle with sauce. Chill. Garnish with sesame seeds.
SPRING ROLLS WITH CHILI LIME DRESSING
Filling:
2 large leafs green lettuce, torn into small bits
1/2 cup carrots, cut into matchsticks
1/2 cucumber, julienned
1/4 cup cilantro
2 tablespoons mint
1/2 cup salad shrimp or tofu
Dressing:
2 tablespoons lime juice (about 1 lime)
1 tablespoon rice wine vinegar
1 tablespoon honey
1 teaspoon Sriracha hot sauce
1/4 cup vegetable oil
Pinch cilantro, chopped
Salt and pepper, to taste
Soak rice wraps in warm water to rehydrate.
Place filling ingredients in layers in a line down the middle of each wrap, leaving room on all sides.
Mix lime juice, vinegar, honey and Sriracha sauce in a bowl. Slowly whisk in oil. Add cilantro, salt and pepper.
Drizzle dressing over ingredients in wraps.
Wrap rolls tightly, like a burrito. Cut on the bias and chill.
Serve plain or, for added flavor, with your favorite Asian dipping sauce.
Recipes by Tad Ingles, executive chef at Dillons Bistro, 4701 W. Sixth St.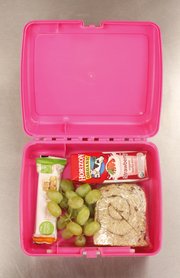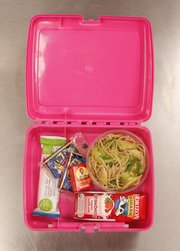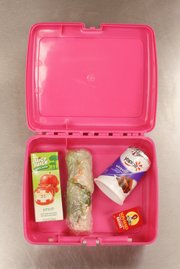 Peanut butter and jelly sandwiches. They're easy, cheap, fairly healthy and OK to leave at room temperature all morning — perfect for packing in kids' lunch boxes.
But every day?
Booo-rrring.
More creative but equally healthy main-dish lunch box options abound. This week, Go! teamed up with a grocery store chef and extension agent to bring you a few globally-inspired recipes plus tips on keeping those lunch boxes healthy and safe.
Tad Ingles, executive chef at Dillons Bistro, 4701 W. Sixth St., said his recipes for curry chicken salad, cold soba noodles and spring rolls should be easy to prepare and fun to eat, but also a way to subtly introduce children to new flavors.
Unlike the intensely spicy adult curries you might find at Indian restaurants, Ingles' curry chicken salad is mild and sweet. It's fine on plain bread, but even better — and more fun — on cinnamon-swirl bread.
A large batch of chicken salad could be made ahead and refrigerated for days, Ingles said, making slapping together a child's lunch (or a sandwich or snack for anyone else in the family) a breeze.
Soba noodles — spaghetti-shaped Japanese pasta made with buckwheat — have more fiber, protein and slow-releasing carbohydrates than plain white noodles, and adding a few veggies and light sauce easily makes them a meal.
"You're getting a lot more bang for your buck," Ingles said.
This dish also can be made ahead, refrigerated, and needs no heating up at lunchtime.
Spring rolls have a few more exotic flavors (at least for some children), such as fresh mint and cilantro. But they're bundled into palm-size burrito-like rolls with familiar ingredients like carrots and shrimp.
The shrimp or tofu from the recipe could easily be replaced with pork, steak, chicken or most any other protein you have on hand or left over from dinner, Ingles said. Same for the vegetables — they're the same ingredients you'd use in a basic dinner salad.
To round out the lunch box, add a drink such as milk or 100 percent juice and even some dessert, though that doesn't necessarily mean a fat- and sugar-filled candy bar or snack cake.
"Most of us crave something sweet at the end of the meal — at least I do," Ingles said.
He suggested a square of sticky rice prepared with coconut milk, a fruit cup or even cereal bars, which can be sweet but usually have lots of fiber and nutrients.
Perishable food should not be at room temperature more than two hours, said Susan Johnson, family and consumer sciences extension agent with Douglas County K-State Research and Extension. If it's 90 degrees or hotter outside, that window shrinks to one hour.
For lunches that need refrigeration, adding a cold pack in the morning should be enough to keep them safe until it's time to eat, Johnson said.
She also shared a trick for lunchmeat sandwiches: They can be frozen and placed in a lunch box without a cold pack. They'll stay cold as they thaw, and by lunchtime they'll be ready to eat.
Johnson said many people mistakenly think that prepackaged items such as cold Lunchables or even string cheese can be sent to school at room temperature.
A simple rule of thumb, she said, is that if you bought it from a cold case at the store, it needs to stay cold.
"There's nothing magical about those Lunchables to keep them safe," Johnson said.
But for field trips or other situations where it's a hassle to deal with cold packs or insulated containers, Johnson said, there's always good old peanut butter and jelly.
— Features reporter Sara Shepherd can be reached at 832-7187. Follow her at Twitter.com/KCSSara.