Photo Gallery
Remnant Rehab: Vintage dress turned into skirt and shirt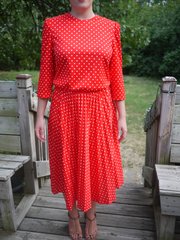 A matronly dress with a cut polka dot pattern was turned into versatile separates with a few simple alterations.
Knowing I have two sewing machines, tubs full of fabric, a plethora of supplies and the know-how to direct them, I've had a lot of friends ask to have craft nights with me.
Most recently, my friend Rachel found a red polka-dot dress at the Salvation Army that had potential but was just too matronly for a 20-something to wear as it was. She's skilled in sewing, but she asked my input on what alterations to make.
This ended up being a really fun project because there were so many possibilities. I consulted and she did the legwork, but I wanted to share the options we came up with so you, too, can look at a dress from the 1980s in a whole new way.
Supplies
vintage dress
scissors
sewing machine
thread
hand sewing needle
What we did
First, we cut the dress in half a little bit above its elastic waistband, making a dress into separates — a skirt and a top. This was a polyester knit, so we didn't have to worry about raveling and left most edges unhemmed.
Rachel wanted a skirt that was longer in the back than the front, so she folded the skirt in half, with the back seam as one of the folded edges, and cut a curved wedge from the front fold to about the middle of the bottom hem.
The top had cute, ruched sleeves that I liked, so I lobbied for keeping that detail and shortening the 3/4-length sleeves to short sleeves. We tried it, but Rachel decided it wasn't her style.
Next we cut the sleeves off at an angle from each armpit to near the neckline. Rachel hemmed the new sleeve openings and then used a piece of fabric from the sleeves to wrap around the back, making it a racerback. She hand-sewed the small wrap along the inside of the top.
After those alterations, she could wear the pieces separately, as a summer top and flirty skirt, or together as a dress, with a white belt to top it off. We even had some leftover pieces to make headbands and kerchiefs.
Keep an eye out for pieces with potential — a dress, pants or shirt that has a great pattern or nice details might just need a few alterations to make it your style.
— Go! editor Katie Bean can be reached at go@ljworld.com. Follow her at Twitter.com/LJW_Go.