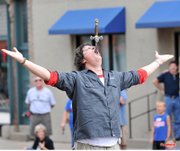 There's going to be plenty of wild stuff to see at this year's Lawrence Busker Festival.
Event organizer Richard Renner helped the Journal-World with a teaser of headline acts, by superlative.
Highest: Pogo Dudes
These stunt-crazy acrobats, at Busker Fest for the first time, use next-generation pogo sticks to propel themselves more than 8 feet in the air. "What they do from there is anyone's guess," Renner says.
Scariest: Thom Sellectomy
Thom Sellectomy is a really nice guy, but he swallows swords. Renner says he's seen Thom have bystanders stick a magnet to his chest to prove the sword's really in there.
Smallest: Jonathan Burns
He may be a normal-sized man, but contortionist Jonathan Burns shrinks. "He can fit inside an overnight bag," Renner says.
Sexiest: Foxy by Proxy
Lawrence burlesque troupe Foxy by Proxy combines song, dance, comedy and scanty costumes — but not too scanty. "This is going to be PG," Renner says. "They're out on the streets, you know.
Loudest: Shibaten Spirits
Japanese performer Shibaten Spirits plays the core-rumbling didgeridoo — and a bunch of other instruments at the same time.
Quietest: Mechanical Man
He may mime and do the robot, but the statuesque Mechanical Man probably won't have much to say.
Hottest: Tricks of the Light
These people dance with fire. That's hot.