Thursday, August 23, 2012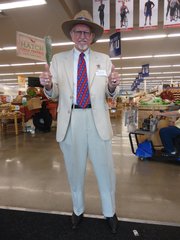 Name: Chuck "Colonel" Benedict
Age: 86
Relationship status: Twice widowed. I had two wonderful wives.
Hometown: Bloomington, Ill.
Time in Lawrence: Seven years
Occupation: HyVee greeter
Dream job: The most interesting job I had was being a court clerk.
What were you doing when scouted? Greeting customers at HyVee
Describe your style: I've always liked to dress nice.
Fashion trends you love: The ranch-owner look with a Stetson hat. And I love KU.
Fashion trends you hate: Guys who wear their pants below their waist
Fashion influences: No one in particular except Colonel Sanders.
What would you like to see more of in Lawrence? A little more conservative(ness)
Less of? Panhandling, although it's more in control now. Lawrence does a great job of taking care of the homeless.
Tattoos or piercings? When I left home for WWII, my dad told me to never get a tattoo. So none.
Who do people say you look like? Colonel Sanders
Tell us a secret… I don't tell secrets. My word is my bond.
More like this story on Lawrence.com