Photo Gallery
Dancing in Lawrence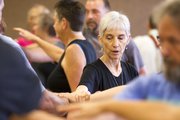 Several groups have social dances with lessons in Lawrence.
LEARN TO DANCE
Several groups have social dances with lessons in Lawrence. Some events change with the seasons or occasionally meet at different dates or places. Be sure to verify before heading out.
Lawrence Tango Dancers
Argentine tango open práctica (practice), Mondays at Signs of Life, 722 Mass. Beginner's class is from 8 p.m. to 9 p.m. with the práctica from 9 p.m. to 10 p.m. No partner required. Free. The group also plays host to occasional milongas (dances) throughout the year.
More information: lawrencetango.org
KU Swing Society Tuesday Night Swing
Swing dances featuring a variety of styles — from East Coast and Lindy Hop to Hizzop Lindy and Balboa — Tuesdays in the Kansas Room at the Kansas Union, 1301 Jayhawk Blvd. (During the summer and when the union has conflicting events, the group meets at Ecumenical Campus Ministries, 1204 Oread Ave.) Beginning lessons are from 8 p.m. to 8:45 p.m. with open social dancing until 11 p.m. Open to the public, no partner required. Wear shoes you can spin in (no flip-flops).
More information: freewebs.com/kuswingsociety
Uptown Hoedown
Traditional barn dances featuring contras and squares, live callers and high-speed music, first Saturday of each month at the Lawrence Senior Center, 745 Vt. There's a beginner's class at 7:20 p.m., with the main dance from 7:30 p.m. to 10:30 p.m. Cost is $8, or $3 for students and $6 for seniors (60 and older).
More information: uptownhoedown.org, 749-7500 or 843-2711
Lawrence Barn Dance Association
Community contra dances featuring live music and a caller, third Saturday of each month at the Lawrence Senior Center, 745 Vt. Beginners' lessons start at 6:45 p.m., with the main dance from 7:30 p.m. to 10:30 p.m. No partner necessary, wear soft-soled shoes. Cost is $8. (Note: September and October dance dates and locations are expected to change. Check the group's website for updates.)
More information: lawrencebarndance.org, 749-1356
English Country Dance
"Pride and Prejudice"-style dances with callers and live music, ranging from vigorous to elegant pace, the Sunday following the third Saturday of each month at the Lawrence Senior Center, 745 Vt. English dance basics workshop starts at 1:30 p.m., with dancing from 2 p.m. to 4:30 p.m. No partner required. Wear comfortable clothes and clean shoes. Bring a snack to share. Cost is $6, or $3 for students.
More information: jeromegrisanti.com/lawrenceecd.htm, 841-5759
Lawrence Folk Dancers
Line-dance style folk dance sessions featuring Balkan, Israeli, Scandinavian and occasionally East Asian styles, 8 p.m. to 10 p.m. Fridays at Dance Gallery, 4940 Legends Drive. No partner required, wear dance slippers, socks or bare feet. Instruction as needed. No cost for first visit, but $5 donation requested to help cover room rental.
More information: kansasfolk.org/folkdance, 371-4613
KU Ballroom Dance Club
This club has a $35-per-semester membership fee, but it's open to the public and the first lesson is free, like a test-drive. The club meets for lessons in ballroom, Latin and swing from 7-9 p.m. Wednesdays at the Kansas Union, plus occasional other dance events.
More information: sites.google.com/site/kuballroom/home
MORE DANCING: COMMUTE FOR COUNTRY AND LATIN
Lawrence's Cielito Lindo, 815 N.H., has a Latin dance music DJ on Saturday night, and both Cadillac Ranch, 2515 W. Sixth St., and 23rd Street Roadhouse, 1003 E. 23rd St., advertise country music nights. But for country and Latin dance nights with lessons first, you'll probably have to commute. In the Kansas City area:
• A few clubs offer lessons in salsa and bachata, including Madrigal, 1627 Oak St., and 7hundred, 700 Southwest Blvd., both in Kansas City, Mo. For more information and other opportunities, check kcsalsa.com and kansascitysalsaclubs.com.
• Denim and Diamonds, 1725 Swift Ave., North Kansas City, Mo., has free country two-step and line dance lessons from 7:30 p.m to 8:30 p.m. every Wednesday, Friday and Saturday. Dances vary by day and week. For more information, visit denimanddiamondskc.com.
Darkened room, deafening music, sweaty bodies, booty-skirts, spilling cocktails — even in a college town, that dance scene isn't for everybody.
Fortunately for people who love to dance, or those who haven't tried but think they might, Lawrence has other options for social dancing that even include instruction.
From sultry, controlled Argentine tango to old-fashioned, foot-stomping barn dance, a handful of Lawrence groups meet for regular dances, preceded by lessons so beginners can get on the floor right away. None require you to bring your own partner, either.
Regulars and newcomers cite good music, physical activity and, most of all, the social experience as their favorite reasons for showing up.
"It's very social, very community-oriented, easy and, you know, less expensive than a movie these days," said Brad Levy, Lawrence, who is on the board of the Lawrence Barn Dance Association.
The association's monthly contra dances — where men and women face each other in a line and change partners throughout, as opposed to square or couples dancing — attract between 50 and 100 people, from middle-schoolers to senior citizens, Levy said. There's live music, the dancing is upbeat, and the moves are easy.
"It's simple enough that everything you need to know, you can learn at the beginner's session," he said. "Some people who find some other types of dance difficult find this one easy because there's someone who tells you what to do. There's no real fancy footwork or anything like that."
The Lawrence Folk Dancers group has no caller, but the moves are basic and repetitive, said member Craig Paul, Lawrence.
"After a little bit, some of the dances are so simple you can start to talk to your neighbor while you're dancing," Paul said. "This really is a social dance group."
Paul said his group does mostly Balkan folk dance, with some Israeli, Scandinavian and even East Asian thrown in. He said many members speak multiple languages, and foreign conversations and songs often accompany their dances.
Evoking visions of Elizabeth Bennet and the charming Mr. Darcy, complete with curtseys and genteel bows, English Country Dance may be one of the oldest social dance forms in town.
But it's also lively, it's evolving, and even college students are getting into it, said Jill Allen, Lawrence, a board member of the Lawrence English Dance group.
"It's fun, and it's gracious," Allen said. "People do this all over the continent. Once you learn it, you can go to other communities and fall right into it."
When it comes to dances like tango and swing, the most basic steps are simple.
The most practiced dancers, however, can combine and finesse them in ways that rival "Dancing with the Stars."
At a recent Tuesday Night Swing session, hosted by the Kansas University Swing Society, rookies and experienced dancers alike reviewed basic steps and techniques and learned new patterns before the group of 10 burgeoned to about 25 and the dance floor filled up for the open session that followed.
Roger Keys, Eudora, had attended about three times and said the dancing was a welcome change of pace from his job as a chemical engineer with Black and Veatch in Overland Park.
"It's really nice to come here after all day crunching numbers," Keys said. "I get to use the other side of my brain."
Keys took a semester of ballroom dance as a senior-year filler elective at Kansas State University. He said he learned a little swing but that he had a long way to go.
"I want to get that good," Keys said, nodding toward an animated 30-something hopping, twisting and twirling his partner around the dance floor like he could do it in his sleep. "That's why I keep coming."
More like this story on Lawrence.com