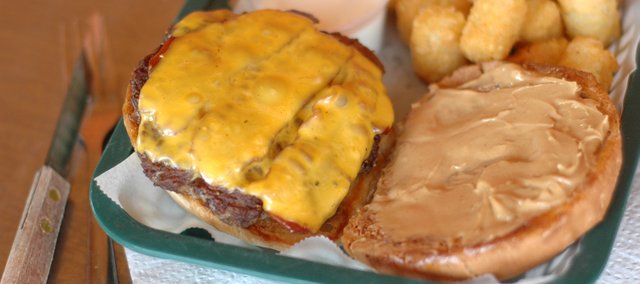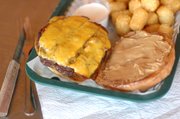 This burger is topped with cheddar cheese, bacon and peanut butter. Yes, peanut butter. It's warm, melty, sticky and drips out the side of the bun when you bite into it, kind of like ketchup (but kind of not). Servers say the Goober is popular hangover food.
Where to get it: Yacht Club Sports Bar and Grill, 530 Wisc.
What you'll pay: $8.49 plus tax. Includes a side.
Try it with: Pickles? Then again, maybe cheese, bacon and peanut butter is already enough things on one burger. If you're with friends (and none of you is driving), you could wash it down with a 3-liter tower of beer.
Also on the menu: Other more normal burgers, traditional bar-and-grill sandwiches and fried chicken or shrimp baskets.
— Off The Beaten Plate highlights some of the more exotic, oddly named or inventively concocted (for better or worse) dishes from local menus. Know of an offbeat menu item we should check out? Email food and features reporter Sara Shepherd at sshepherd@ljworld.com. Tweet her at Twitter.com/KCSSara.