Traditional British Christmas Dinner
Queen Lizzy's Fish and Chips Shop, 125 E. 10th St., and Brits, 929 Massachusetts St., have planned a second Traditional British Christmas Dinner on Dec. 16. Doors open at 5 p.m. and dinner begins at 6 p.m. at Queen Lizzy's. Tickets, which can be purchased at either business, are $38 for adults and $19 for children 15 and younger.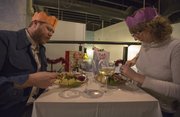 There's the roasted parsnips and, of course, figgy pudding. But that's not all the Brits have at Christmas dinner that we don't.
There are also Christmas crackers — those colorful, shiny tubes that pop when you open them, then make you laugh with a paper crown and what Surrey, England, native Matt Poulton described as a bad joke and a useless plastic toy.
"It's not Christmas without them, it really isn't," Poulton laughed. "Good fun — that's what it's all about."
Poulton, owner and chef at Queen Lizzy's Fish and Chips Shop, 125 E. 10th St., played host to a British Christmas Dinner on Sunday night. Brits, 929 Massachusetts St., co-sponsored the event — and also provided the crackers.
More than any other time of year, Poulton said, he gets homesick at Christmastime, and he's heard from other British customers that they do, too. He thought Sunday's dinner — and a second dinner planned for Dec. 16 — would be nice for homesick Brits and curious Americans alike.
The dinner menu included honey-roasted parsnips, turkey, ham, sage and onion stuffing, bacon and almond roasted Brussels sprouts, pigs in blankets and Yorkshire pudding. Dessert was figgy pudding.
"This is what I grew up eating and all my friends used to eat," Poulton said. "It's pretty much a staple."
Among guests was Ginger Ratzlaff of Lawrence, who, years ago, volunteered in Botswana and enjoyed lots of meals with British neighbors there.
"This is just kind of fun and nostalgic," she said.
James Newell, Lawrence, grew up in the United States with a British mother, who has since moved back to England. He and his wife, Katie, said they liked having a restaurant in Lawrence that serves authentic British food and wanted to try the holiday meal, as well. For Katie Newell, Sunday was her first time trying figgy pudding.
While awaiting their meal Sunday, friends Delana Lee and Karen Cook of Lawrence sipped wine and snapped a photo with a life-size cardboard David Tennant (the 10th doctor from the BBC series "Doctor Who").
Self-described Anglophiles, the pair said they'd never been to the United Kingdom but loved the Brits' accents and, of course, "Doctor Who." They saw the dinner as a chance to try some food and other traditions from across the pond without leaving Lawrence.
For Lee and Cook, the silly paper crowns stayed on for the meal.
"Crackers really need to catch on in the U.S.," Lee said. "They're fun."