I find myself writing this column in the midst of the most consumer-driven time of the year. Shoppers trample each other on the ominously titled "Black Friday," and the Internet explodes during "Cyber Monday."
Everywhere we turn, society tells us to buy, buy, buy, and that quantity will always trump quality.
It hasn't always been this way. Extensive holiday gift-giving, in fact, is a fairly recent phenomenon in America, one no doubt driven by the explosion of consumerism in the 1950s.
In the colonial period (my area of study), Christmas was a time for feasting and celebration more than gift-giving. Elites like Thomas Jefferson gave toys as gifts to children and more practical gifts like clothing, books or cash tips to servants.
This being a column directed toward the cultural history of men's fashion, you might think that I would embrace the season of bargains, plenty and trends. This isn't quite the case though — while I do wholeheartedly support finding a bargain, I think it's far more important to make a practical purchase.
What I'm really saying is that we need to get back to our roots during the Christmas season. Instead of buying the man in your life a bunch of things he really doesn't need, do your best to purchase quality, timeless and practical pieces that will last him a lifetime.
I know, I know, easier said than done. I'll narrow my suggestions down to a few fashionable pieces that every man could use.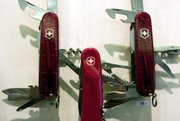 First off, look into a quality pocket knife. I've had the same Swiss Army knife for more than six years now, and it is still always in my pocket. Whether I need to snip a hanging thread or open a stubborn box, I'm constantly amazed at how often my pocket knife proves its purpose.
The sturdy pair of scissors and pen knife included can do wonders and will hold up with little-to-no maintenance. These days, Victorinox makes a pocket knife for every lifestyle and includes everything in their knives from a flash drive to a bottle opener.
I would also recommend looking into a sturdy, stylish and practical leather good like a belt or wallet. Pass up your local J.C. Penney on this one, and instead get into contact with a local leather worker or an online leather shop. Here you can find hand-tooled leather goods for competitive prices that will only get better with more use and will NEVER go out of style.
Just make sure that you buy either full- or top-grain leather goods with sturdy stitching — these are qualities that ensure a long life for leather. Even better, by supporting leatherworkers throughout the U.S., you're also helping to keep alive one of our oldest traditions in clothing manufacture.
What if you're shopping for the guy who already has everything? Consider making a donation in his name to a charity or fund that he supports. The holiday season is, after all, about giving, and classic style is just as much about what you do as what you wear.
— Vaughn Scribner can be reached at go@ljworld.com.
More like this story on Lawrence.com