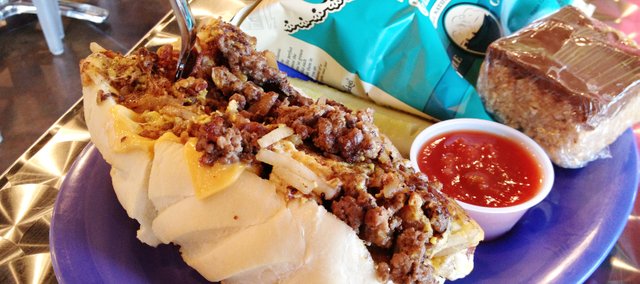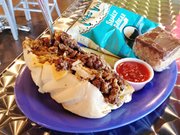 This isn't a pretty sandwich. Instead of a typical burger patty placed on a round bun and layered with toppings, a Betta' Burger is cooked, chopped up, mixed together with its toppings, spooned into a French hoagie bun and served with a fork stabbed into it (useful for finishing off pieces that tumble out when you attempt to eat the sandwich with your hands).
"You get a bit of everything with every bite," explains Sandwich Bowl manager Jessica Gordon, whose parents own the restaurant. "We don't make pretty food, we make good food."
The Breakfast version of the Betta' Burger — which Gordon says is popular at all times of day — is stuffed with bacon, hash browns, eggs and American cheese.
Where to get it: The Sandwich Bowl, 3514 Clinton Parkway, Suite E
What you'll pay: $8.99 plus tax for the burger, chips and a pickle.
Try it with: Salsa, which comes on the side. And dessert — if somehow you have space left for a jumbo Scotcheroo, or whatever homestyle sweets are available that day.
Also on the menu: More than a dozen other Betta' Burgers, including the Bronco (with bacon, onion, pepperjack, mozzarella and barbecue sauce) and the Ulti-Meat (with a full pound of beef, pork loin, pepperoni, bacon and salami). There's also all kinds of sandwiches — hot and cold — and homemade soup every day.
— Off The Beaten Plate highlights some of the more exotic, oddly named or inventively concocted (for better or worse) dishes from local menus. Know of an offbeat menu item we should check out? Email food and features reporter Sara Shepherd at sshepherd@ljworld.com. Tweet her at Twitter.com/KCSSara.
More like this story on Lawrence.com