It's a Wednesday night in November, and nearly 100 enthused people are filling up the Alton Ballroom at Pachamama's.
It's an eclectic group, ranging from students, to writers, to professors, to a few visitors from out of town.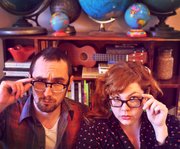 Nerd Nite at Pachamama's
Nerd Nite, the monthly "presentations and drinking" event, continues with an alumni night of the best-voted academic talks. It starts at 8 p.m. Wednesday at Pachamama's, 800 New Hampshire St., and is free, though space is always limited.
Nerds vs. Super Nerds
Though their names are incredibly similar, Nerd Nite and Super Nerd Night are two very different regular events in town.
Nerd Nite, held monthly at Pachamama's, is like TED Talks for townies. Super Nerd Night combines bands, video games, Magic: The Gathering, and more at the Bottleneck every few months.
At least you can rest assured that both are fun.
They're ordering drinks, taking their place at tables, and excitedly catching up with friends as they prepare to hear three Lawrencians give presentations on citizenship in Estonia, dissident music in the Soviet Union, and composer Béla Bartók. This is Nerd Nite Lawrence.
The premise of Nerd Nite is simple: Lawrencians make presentations on topics they are naturally fascinated by — perhaps a lifelong hobby or a dissertation topic. Each presentation is related to an overall theme for the night, and past themes have included "Smarts and Crafts," "Lawrence Oddities" and "Soviet Bloc Party."
It's a back-and-forth between the presenters and attendees the entire night as the crowd inevitably learns something new — did you know Estonia holds elections online? — and everyone bonds over a few drinks and brainy conversations.
"The thing that I really like about Nerd Nite is that it's a bunch of people who understand obsessing about any sort of topic, be it scotch, or orchids, or records, or your neighborhood," says Nick Spacek, an avid Nerd Nite attendee.
Nerd Nite is held in 43 cities worldwide, and it all started in a dive bar in Boston. Chris Balakrishnan, a then-Ph.D. student at Boston University, often traveled to Cameroon to study birds. When he returned, he'd update the bar's owners and bartender about his travels. His first formal update — in slideshow form, marking the first Nerd Nite — was in 2003.
Nick Ray, Dave Trimbach and Travis Weller started the Lawrence chapter. Trimbach and Weller attended Nerd Nite while living in Austin, and after they moved here in summer 2011 (Weller was a returning Lawrencian, with Trimbach moving here for the first time), they launched the first Nerd Nite Lawrence in November 2011.
The event has grown so large that it had to be moved from a smaller room in Pachamama's, which allowed for 60 people, to the Alton Ballroom, which accommodates more than 100 people. The event has gone through a few transitions, and is now organized by Weller and friend Becky Harpstrite, who are known as the "co-bosses."
Weller calls Lawrence "fertile ground" for this type of event and says its creation has been entirely community-driven.
"Nerd Nite was already happening, but it was happening at house parties, at bars, in front yards and at shows," Weller says. "We just formalized it a little bit."
Harpstrite, who has been a presence at Nerd Nite Lawrence since its beginning and has witnessed its growth, also designs the event's posters.
"The really powerful thing about Nerd Nite is that it's a space people can come together and not be scared of something they're really passionate about," Harpstrite says. "Everybody is open to learning."
"[Nerd Nite] is a great place to bring people who are a little different and give you a space for something entertaining to happen — get to know each other," Weller says. "I know of people who have really formed friendships around Nerd Nite."
Weller believes it isn't the event itself that's made it so electrifying and successful, but people's interactions with each other.
"We give them a space — 20 minutes — to share their passion," he says. "After that, it's all them. There's no magic here. This is Lawrence being Lawrence."
The next Nerd Nite, at 8 p.m. Wednesday in the Alton Ballroom at Pachamama's, 800 New Hampshire St., is an alumni edition that features three past presenters who were voted in by attendees to receive encore time slots. Steph Kozak will present on the economic comeback of the Rust Belt, Justin Runge will present on Ray Bradbury, and Bryan Smith will present on biochemical history. The event is free, and there is a cash bar.