Sunday, December 16, 2012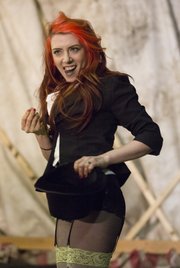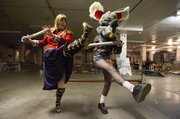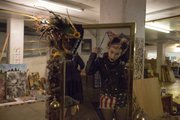 'Miracle on Mass. Street'
What: Burlesque troupe Foxy by Proxy's first holiday show, "Miracle on Mass. Street"
When: 9 p.m. Saturday, Dec. 22
Where: The Granada, 1020 Massachusetts St.
Cost: $8. Show is for those age 18 and over
About two and a half years ago, Emma Swendson went on break from her job at Juice Stop so she could go change into something a little sexier.
She was trying out for a burlesque troupe.
"I wasn't even off work. I got someone to cover for me so I could go take my clothes off real quick," Swendson says.
Swendson, whose stage name is ChiChi Rodriguez, didn't have a proper costume. She pulled an old dress out of the backseat of her car for the tryouts.
"I didn't know how to sexy dance," Swendson says. "I'm still not sure that I know how."
Swendson made the cut. And the burlesque troupe she throws off most of her clothes for, Lawrence-based Foxy by Proxy, has continued to prosper. The 16-member troupe has outgrown three venues and now performs at the Granada, 1020 Massachusetts St. On Saturday, the troupe will have its first Christmas show, "Miracle on Mass. Street."
Foxy by Proxy is not your typical cabaret-style burlesque. The costumes are still outlandish, and the sets are variety show-esque. But the humor is less political satire and more anti-pop culture. At a typical Foxy by Proxy show, you can expect to see tattoos, PBR and flannel.
Sheila McGuire, the troupe's emcee, said that of the 15 or so Foxy by Proxy performances, "Miracle on Mass. Street" will be the most theatrical show the troupe has done yet.
"All of the bits are inspired by classic Christmas stories," McGuire says. "The whole thing will tell a story."
The show will include a performance by Beach Team, which performed Black Sabbath covers at the troupe's Halloween show. The doors open at 9 p.m. Saturday at the Granada. The price of admission is $8 — a fair price, McGuire says.
"I've paid a lot more to see a lot less," McGuire says. Pun intended.
The playful attitude is part of the act. Foxy by Proxy is a bunch of rad weirdos with Peter Pan complexes, says Jen Young, one of the troupe's performers. Young, also known as The Scarlet Harlot, says she never really felt like she fit in elsewhere. "This has allowed me to express myself," Young says.
Young says the progression to burlesque was a natural one for her. She's done pinup and alternative modeling, a form of modeling that counters traditional ideals of beauty with tattoos and dark makeup, and was looking for a new place on stage.
"Vaudeville has always been a big influence to me," Young says. "Burlesque was just the obvious next step."
Burlesque is becoming widely accepted as a form of art, McGuire says.
"I think it comes from women celebrating their bodies, celebrating the female form," McGuire says. "I think it's empowering."
Burlesque as a whole has redefined beauty, but Foxy by Proxy, specifically, has redefined fitting in, McGuire says.
"We're little scene orphans," McGuire said.
Greg Thomas, the troupe's technical director, says he has been impressed with the performers of the troupe. The women have developed as theatrical storytellers and overcome their fears, he says.
"We're really always trying to up our game. We tear down a set, and we're already talking about doing a new show in six weeks. We're getting help writing these things so they seem more like one long, beautiful story," Bodean says. "I've been mesmerized watching this group evolve."