Monday, December 17, 2012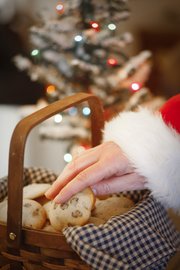 No matter what kind of healthy stuff you cram into 'em, cookies still manage to be pure comfort food. They're just sweet enough, just big enough, and just flavorful enough to fix almost anything, and they can be whipped up at the drop of an egg.
With so many interesting possibilities, it's hard to choose just one kind of cookie to make on any given day. Have no fear, the magic ratio is here!
Most cookies follow a universal ratio of 1 part sugar, 2 parts fat and 3 parts flour. With these numbers and a few add-ins, you can bake custom cookies to please any palate.
Let's have a little fun with this. Pretend you're going to a cookie exchange, but you're not sure what to take. Start with the basic recipe as follows:
Set up your stand mixer with a big bowl. Chuck in 1 cup sugar and 1 cup softened butter. Whirl them together until they're fluffy-ish, and then add 1 large egg and 3/4 cup milk. Blend the whole mess together until it's fairly smooth.
Measure out 3 cups flour and mix in 1 teaspoon baking soda and 1/2 teaspoon salt. Gradually beat the flour mixture into the butter mixture, a little at a time. Once the flour is fully incorporated, you're ready to let your imagination run away!
Heat your oven to 350 degrees and divvy the cookie dough into three bowls.
What would you like to try? Chocolate? OK. Into the first bowl, toss 1 teaspoon vanilla extract and a handful or so of chocolate chips. Use just one kind or a blend if you're feeling adventurous.
In the second bowl, try 1/2 teaspoon orange extract and 1/2 cup shredded coconut for a little taste of the tropics.
In the third bowl, capture a Christmassy feel with a few drops of peppermint extract and 5-6 crushed peppermint candies.
Drop your newly-dressed cookie dough onto an ungreased cookie sheet by the tablespoonful, about 2 inches apart. Bake them for 10 minutes, or until you see the barest hint of brown along the edges. Let the cookies cool on the pan for 2 minutes, then transfer them to a rack to cool completely.
See that? Three kinds of cookies from one recipe. You can increase your variety by changing up the ingredients even further. Try brown sugar for a richer flavor, or whole wheat flour for a nutty taste. Feel free to get creative; since you're using such small amounts of each add-in, you can likely afford good-quality ingredients for the best taste.
As long as you remember the magic 1-2-3 ratio, you can cut or increase your recipe to accommodate the number of cookies you want to make. Don't forget to adjust the salt and baking soda as needed. Store the leftover cookies (if you have any) in an airtight jar for up to a week.
Enjoy!
— Audrey Lintner can be reached at go@ljworld.com.