Monday, December 17, 2012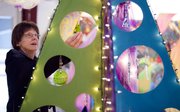 At the risk of sounding overly "Bah! Humbug," I have to say I don't like Christmas shopping.
While commercials showcase happy families bundled up, walking down snowy and brilliantly lit city streets to Christmas shop together, the reality is not so pretty a picture for me.
I'm always ready to give up after scouring the Internet and realizing that everything, literally everything, is on back order until mid-January and traipsing around town for four hours looking for new patio furniture before a sales associate tells me stores don't stock outdoor furniture until March. I should have guessed this to be the case, but it's Christmas! Everything should be available at Christmas!
This isn't fun. It's a mad and frustrating dash to get all my presents wrapped and under the tree before the 25th.
I suppose I could start earlier in the year; I suppose I could join the ranks of Americans who participate in Black Friday; I suppose I could buy up a bunch of gift cards and hand them out on Christmas morning. These solutions would get the job done, but they definitely wouldn't make the process any more enjoyable.
I'm looking for a way to make Christmas shopping fun again. So I'm trying to shop more locally.
I've always been mostly dedicated to shopping at local stores, but out of my disdain for holiday shopping, I've most recently found myself at large chain stores at 8 p.m. on December 23rd regrettably foregoing local alliances and opting for the quickest fix.
But in an effort to actually enjoy the Christmas season for what it is and what it represents, I've found that going into a local store and chatting up the person behind the counter while looking around the shop is the perfect antidote to my grumpiness.
And every time I make a purchase, I feel good in knowing that 73 cents of every dollar will stay in our local economy, as opposed to the 43 cents that would stay here if I bought from a chain retailer, or the zero cents that would stay had I purchased online.
It seems as though the economy is steadily improving: Jobs are coming back, holiday spending is up an estimated 3 percent to 4 percent, and the housing market is regaining momentum.
And from my seat, it seems that one of the best ways to continue its improvement and ensure that our community is salvaged if a national recession hits again is to support our local economy.
While Christmas is quickly drawing near, you can find some great gifts at these local-oriented holiday art markets coming up this week:
Wonder Fair's Annual Holiday Market: Wonder Fair, 803 ½ Massachusetts St., today through Sunday during store hours.
Van Go Adornment Sale: Van Go, 715 New Jersey St., 1 p.m.-5 p.m. today through Sunday.
Holiday Art Sale: Lumberyard Arts Center, 718 High St. in Baldwin City, 1 p.m.-4 p.m. Tuesday through Friday and 9 a.m.-noon Saturday.
Lawrence Art Guild Winter Blitz: 1109 Gallery, 1109 Massachusetts St., 11 a.m.-5 p.m. today through Wednesday and 11 a.m.-8 p.m. Thursday.
— Ali Edwards can be reached at go@ljworld.com.