Monday, December 17, 2012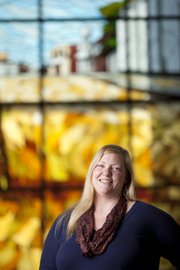 Melanie Coen claims her job is far from glamorous.
However, it does involve occasionally dining with presidents, politicians and famous journalists.
Coen works as marketing and event coordinator for the Robert J. Dole Institute of Politics, 2350 Petefish Drive on Kansas University's West Campus.
She and her co-worker, Heather Anderson, plan and promote the institute's events, from the two to three weekly daytime events to the evening programing.
This job has her dealing with people like Newt Gingrich, Donald Rumsfeld and Colombian President Juan Manuel Santos when they come to town. Coen and Anderson accompany them to different events and show them around campus.
"Think of it as a hospitality extraordinaire," she said. "We want everything they do to reflect positively on KU and the Dole Institute."
This means catering to the guests' tastes in food or entertainment.
"We love to give them the rock star treatment," she said.
For example, when former U.S. House Speaker Newt Gingrich visited campus in November to speak at the Institute, Coen scheduled a trip a trip to the KU Natural History Museum.
"He loves dinosaur bones," she said.
But when not having dinner with Bob Woodward, being vetted by the Colombian Secret Service or fossil hunting with Gingrich, Coen said her job is very methodical.
Bringing such speakers to the institute takes months to plan, and the events are choreographed to the minute. The day of the event can get pretty stressful, Coen said.
"A lot of people say the day they get married, they don't remember what happened," Coen explained. "It's a bit like that."
For Coen, the reward comes after the event is over.
"I love holding the door at the end of an event," she said. "We are here for the betterment of the community."
Coen became involved in the Dole Institute after planing events in the music industry for a number of years.
"They were a much different kind of rock star," she said.
She has been working at the Dole Institute for about three years.
When she's not planning events, something that takes months of coordination, she creates graphics and promotes events for the Institute.
She's proud of her job and believes in what the center does. And she's especially proud that the Dole Institute can claim to be bipartisan in a polarized era where compromise has become a dirty word.
How the center dedicated to politics accomplishes this feat might surprise some.
"We don't talk politics at all," she said. "We check our beliefs at the door."