Monday, December 17, 2012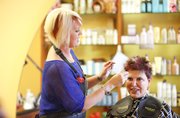 Suggested holiday tips for service providers
While you should never feel obligated to tip more than your holiday budget allows for, tipping is a nice way to thank service providers at the end of the year. There are no firm rules, but here are some suggestions for a variety of service providers.
Regular baby sitter: One evening's pay and a small gift from your children.
Day care provider: A gift from you or $25-$70 for each staff member and a small gift from your children.
Private nurse: A thoughtful gift from you.
Home health employees: A thoughtful gift from you (if gift-giving is not against company policy).
Housekeeper/cleaner: Up to the amount of one week's pay and/or a small gift.
Nursing home employees: A gift that could be shared by the staff, such as flowers or food.
Barber: Cost of one haircut or a gift.
Beauty salon staff: Cash or gift depending on whether you tip well after each service. A suggested amount is the cost of one salon visit divided for each staff member who works with you, with individual cards or a small gift to each.
Personal trainer: Up to the cost of one session, or a gift.
Massage therapist: Up to the cost of one session, or a gift.
Pet groomer: If the same person grooms your pets all year, up to the cost of one session or a gift.
Dog walker: Up to one week's pay or a gift.
Personal caregiver: Between one week to one month's salary or a gift.
— Source: emilypost.com
Hairstylist Ashley Butell says that she doesn't expect extra tips from her clients during the holidays but that getting them is definitely a welcome boost.
That goes for a larger-than-usual cash tip or even a small gift — for someone who's often at the salon 10 hours a day, six days a week, even treats like fresh fruit or a few holiday cookies can be pretty heartwarming.
"It makes you feel special, like they appreciate what I do," says Butell, manager and stylist at Rejuvene Salon and Spa, 13 E. Eighth St. "And I think it's a nice reward."
Tipping the people who provide us with year-round services is common at Christmastime, though there aren't rigid rules for who to tip or how much to spend. The Emily Post Institute suggests thinking of holiday tipping as "holiday thanking" — letting common sense, specific circumstances and holiday spirit be your guide.
Foremost, Emily Post's Web article on the topic says, not unlike like general gift-giving, you should never feel obligated to go beyond your personal budget when tipping at the holidays. If you can't afford cash tips, consider homemade gifts or even a card of thanks — "words are always a great way to express your thanks for a year of good service."
Emily Post offers these other considerations to think about when deciding who to tip and how much:
Do you already tip regularly? If so, you may forgo an end-of-the-year tip or give a more modest holiday thank you or a small gift. Any gift should be accompanied by a handwritten note of thanks — a couple sentences is enough.
The quality and frequency of the service you receive.
Your relationship with the service provider.
How many years you've been using the service.
Type of establishment — is it deluxe or moderate?
Location. Tipping customs vary by region, and averages tend to be higher in larger cities.
When in doubt, call the front desk, ask what's accepted by the company and what they typically see from other customers.
Lawrence resident Joane Nagel, who is one of Butell's clients, says she grew up in Cleveland, where "everybody tipped everybody" this time of year, even the trash collectors.
Here, Nagel says, tips seem less expected and more appreciation-based. She says she tips service providers she has face-to-face relationships with, such as her hairstylist, her house cleaner and her letter carrier, especially if she's been sending or receiving lots of holiday packages in the mail.
"So we don't tip the garbage man," Nagel says.
Lawrence postmaster Judy Raney says letter carriers are not allowed to accept cash or gift cards over $20. However, they appreciate gifts at the holidays, from homemade treats to a nice Christmas card.
"They look forward to it, very much so," she says. "It's nice to be appreciated in whatever format that is."
It's highly common for people to give an extra tip to their newspaper carriers during the holidays, says Journal-World assistant circulation manager Anna Hayes. She says that's especially true for the carriers who have been on their routes many years, gotten to know their customers and consistently given good service. Some choose to drop off holiday cards or gift cards for their carriers at the Journal-World's front desk.
For some carriers, Hayes says, holiday tips provide enough of a bonus for them to stick with the early-morning, all-weather job.
While it's common to tip day care providers and regular baby sitters — Emily Post suggests a small gift from the kids in addition to cash — public school teachers are different.
Lawrence school district policy states that gift-giving between students and staff members is discouraged. That goes for cash, merchandise or personal favors.
District spokeswoman Julie Boyle says parents might consider donating to a classroom supply fund if there's one set up, or a card of thanks is always appropriate.
At Butell's salon, where she's been working nine years and developed a number of loyal clients, the "holiday thanking" goes two ways. Butell says she tries to bring in a big tray of goodies for her clients to partake in, too.
"I love to bake," Butell said. "So that's what I do."