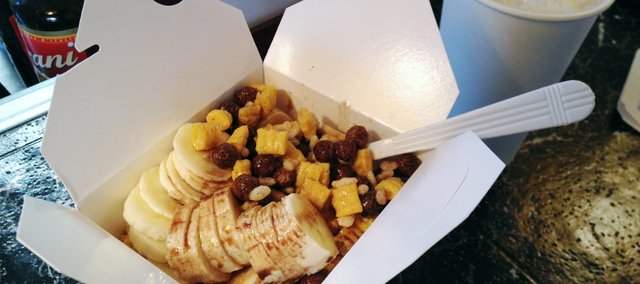 Sunday, December 23, 2012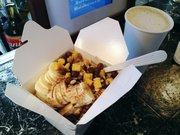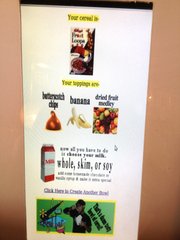 You could order Grape-Nuts with raisins, wheat germ and skim milk. Then again, you could have Reese's Puffs and Cocoa Krispies with chocolate chips, whipped cream and Oreo cookies. Or, just let the computerized "Custom Bowl Creator" pick for you (Fruit Loops with dried fruit medley, fresh banana and butterscotch chips? Hmmm. Doesn't sound too bad.).
The Cereal Bar is one of the kookiest/awesomest things at the funky, 24-hour coffee shop called Java Break. There's even a tiny TV on the counter for watching cartoons, but the cereal comes in Chinese take-out containers in case you're on the run.
Where to get it: Java Break, 17 E. Seventh St.
What you'll pay: $2.99 plus tax for up to three types of cereal, milk and one topping. Extra toppings are 50 cents each. For another 50 cents, upgrade from regular milk to chocolate or vanilla milk, almond milk, whipped cream or yogurt.
Try it with: The whole point is to concoct a bowl full of cereal with whatever you can dream up. Go crazy.
Also on the menu: Espresso drinks, Italian sodas, panini, frost-your-own cupcakes and other homemade baked goods.
— Off The Beaten Plate highlights some of the more exotic, oddly named or inventively concocted (for better or worse) dishes from local menus. Know of an offbeat menu item we should check out? Email food and features reporter Sara Shepherd at sshepherd@ljworld.com. Tweet her at Twitter.com/KCSSara.