Sunday, December 23, 2012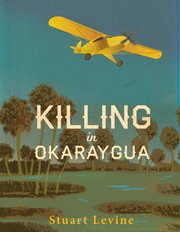 Musician, writer, husband, cyclist, father, Poe scholar retired KU professor and Lawrence resident Stuart Levine still has plenty of energy at 80 years ­— evidenced by the fact that he recently published his first novel.
The murder mystery "Killing in Okaraygua" — ­pronounced "o-kaw-rye-gwah," and make sure to trill that "r," Levine says ­— follows Inspector Irronogaray, an honest cop in a corrupt, fictional South American country. Irronogaray is pronounced "e-ron-uh-gah-rye," and make sure to trill those "r's," too.
Levine's inspector treads a dangerous tightrope as he investigates a murder in the high echelons of government.
If the name sounds familiar ­— Stuart Levine, not Inspector Irronogaray — it may be that you took one of his classes at KU, where he taught from 1958-92, mostly in the American studies department, which he also founded.
A professor emeritus of English, Harvard-educated Levine is not solely an academic. He has performed as principal French horn in the Lawrence Symphony Orchestra and played in the Lawrence City Band and the CottonWood Winds. He still plays gigs with the Lawrence Woodwind Quintet.
During his three decades at KU, Levine taught as a visiting or exchange professor at schools including Kansas State University and the University of Wisconsin to institutions in Argentina, Costa Rica, Mexico and Chile.
He met his wife, Susan, during an intensive Spanish language course he took to prepare for visiting Latin America. Susan taught the course.
"She was a lovely 23-year-old grad student. It was absolutely untrue I dated her to get better grades in the class," he recalls, laughing.
"He's always been energetic," says his youngest son, Al Levine, 46, also a Lawrence resident. "As a little kid, I remember there was not a lot of sitting around. We were always biking or fishing. We used to do family bike rides from Lawrence to Baldwin."
On more extensive trips to Latin America where his parents went on U.S. government Fulbright scholarships and sabbaticals, the younger Levine remembers his parents often leaving the beaten path.
"We went to our share of ruins," Al Levine says, "but we also went to local boxing matches. They weren't into traditional touristy things. They were more into experiencing the country and becoming part of the local population."
Stuart Levine serves up generous portions of that experience in his new novel.
He decided to take "Killing in Okaraygua" straight to the readers after a disappointing experience with traditional publishers.
One publisher promised to respond to Levine about his manuscript in eight weeks, but after eight months passed, Levine's younger son suggested bypassing traditional publishing.
"I just wanted people to read the book," says Stuart, whose short fiction has been accepted by editors for literary journals such as the Chicago Review, Short Story, The Distillery and others.
Levine and his wife are both highly regarded scholars on Edgar Allan Poe ­— considered to be the creator of the modern mystery novel. Their books, papers and annotated editions of Poe's works have also been traditionally published.
With his younger son's help, Levine published "Killing in Okaraygua" as an e-book on Amazon.com. It's in paperback through the Jayhawk Ink bookstore's print-on-demand program. KU Bookstore, 1301 Jayhawk Blvd., carries Levine's novel, as does the Raven Book Store, 8 E. Seventh St.
The novel has garnered good reviews since publication in September. One Amazon.com reviewer, author Ashley Adams, calls it a " … wonderful and delightful surprise.
"Stuart Levine. . . has spun a tale of such richness, humor, quirkiness, and depth that I found myself fully engrossed from the start."
Though retired from teaching, Levine plans to step up to the lectern at least once more for a public reading and book-signing 7 p.m. Jan. 24 at, appropriately enough for a Poe scholar, The Raven.
Meanwhile, Levine, never one to sit still, is already at work on the next Inspector Irronogaray mystery.