Monday, December 24, 2012
Delicious
Out of the ashes rises the phoenix. Or the parfait.
I will readily admit that not all of my culinary adventures end well.
For example, when I set out to cook something with clementines, I was determined to do something that also included chocolate, because to me orange and chocolate are a quintessential Christmas combination, and I love it. So I planned to do a clementine chocolate cheesecake, but wouldn't that old recipe be cuter if I did it in mini tart pans? Because things that are mini are ALWAYS BETTER. Fun-size!
Let me tell you, there was nothing fun about it. For some reason I had an extra-messy time making this cake, and by the time I put it in the oven my kitchen was, as my husband likes to say, "blown up." Then, while they baked, I attempted to candy some clementine slices, but dang if they wouldn't really get solid.
So then I made some ganache and tried dipping wedges in it, but that was just a messy mess and not all that pretty after all.
Finally, the mini cheesecakes were done (maybe a little overdone), and I pulled them from the oven and they would not come out of the pan. I had greased the pan, I had properly planned, but it was a no-go.
I am not one to waste food. I HATE to toss something I have spent ingredients on. So it was a rookie mistake not using springform for cheesecake. But I wasn't throwing in the towel yet.
Recently, I have been on a parfait kick. My mom gave me a set of parfait glasses I remember using as a kid on special occasions, and then I started buying up more of them at garage sales because I have some hoarder/compulsive tendencies, and I envisioned birthday parties with sundaes for days.
So when my cakes were crumbling as I pulled them from the pan, I immediately thought, "PARFAIT! PERFECT." The day was saved.
So, you can do this the traditional way, in a springform pan (which I later did to great results) or you can "deconstruct" it in a parfait, which I actually liked better.
Clementine chocolate cheesecake
For the crust:
10 Oreo cookies
3 tablespoons melted butter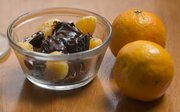 Put it all in a food processor and puree until you have crumbs.
Coat the inside and bottom of a springform pan with cooking spray. Press the cookie mixture into the bottom of the pan and put it in the refrigerator while you make the filling. If you are doing parfaits, you can skip this part.
For the filling:
6 ounces semi sweet chocolate chips
6 ounces dark chocolate chips
½ cup cocoa powder
3 blocks cream cheese, softened
1 cup sour cream
1 cup sugar
3 eggs
1 teaspoon real vanilla extract
½ teaspoon orange extract (optional)
zest and juice of two clementines
Beat ingredients together, then pour them over the cookie crust and bake at 350 degrees for 50 minutes.
Or grease a glass baking dish and just pour the filling in because you are just going to scoop it out for use in the parfaits, then bake as above.
For the ganache:
8 ounces chocolate chips (the remainder of the bags)
3 tablespoons butter
2 tablespoons milk or half and half
Melt the chocolate chips in the microwave at 30 second intervals, pausing to stir in between, until the chocolate is melted and smooth.
If you made a traditional cake, once it is cool, place clementine slices around the perimeter and then drizzle ganache all over the top.
If you are making parfaits, it's time to assemble. Put a couple of tablespoons of crumbled cheesecake in the bottom of the glass, then crumble one Oreo cookie, then place two clementine slices in, and top with a tablespoon of ganache. Repeat.
If you don't have parfait glasses, you can do these in ramekins or small bowls — whatever you have works! You could even put a little ice cream in between the layers if you were going to serve them right away. Super fun!
Maybe it's compulsive, this "Never say die" attitude of mine, but this time, I think it served me (and my family) well. Who doesn't like a cute little glass with an individual serving of goodness made just for you? Hey, maybe I meant it to be that way.
Nutritious
Like many ingredients that come up for the Delicious/Nutritious treatment, tangerines are amazing just by themselves. But, of course, this would a really boring column if Megan always came up with something fantastic while I just posted "Eat it by itself."
Thus, I was up to the challenge of using tangerines in an actual recipe and pushed myself further by deciding to avoid making a dessert with them, which is definitely where I would normally go with something so sweet.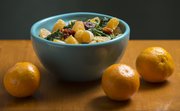 Therefore, I give you a kale salad featuring those adorable little "Cutie" clementines. The clementines do a great job of taking some of the sulfur-like edge off the kale, while mixing nicely with the savory olives and sun-dried tomatoes. The avocado and hemp seed provide good fats and texture, too.
This nutritious salad is perfect as a side salad or a full-on dinner salad and is pretty enough to serve to any company lingering after the holidays. Oh, and it's super yummy, too.
Clementine Kale Salad
½ bunch dinosaur kale, torn into pieces, stems removed
1 avocado, peeled, seeded and chopped
½ cup sun-dried tomatoes (not the kind in oil), soaked for 20 minutes in water to rehydrate
10 (or more) kalamata olives
2 clementines, peeled, sectioned
2-3 tablespoons hemp seed or 1 tablespoon ground flax seed
Juice of 1 lemon
Pinch sea salt
Put the dinosaur kale in a medium bowl. Squirt with lemon juice and sprinkle sea salt on top.
Next, top the kale with your chopped avocado and, using clean hands, massage the avocado, lemon juice and salt into the kale.
Let the salt, lemon juice and avocado soften the kale while you get the rest of your ingredients in order. You'll need to chop the sun-dried tomatoes into rough pieces and halve your olives and your clementine sections. When you're done with those, top your salad with tomatoes, olives and clementines. Sprinkle hemp seed or flax seed on top.
Serves 1-2.