Thursday, December 27, 2012
The final Final Fridays event of 2012 offers one more opportunity to reflect on the thriving arts community in Lawrence. While one of the more popular venues, the Lawrence Arts Center, is closed for the holidays, other places will be open and will showcase the talent from many who live in the community, and others who have been drawn to it.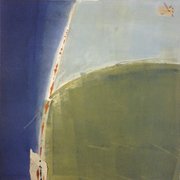 Eliza Bullock is one such talented individual. Bullock moved to Lawrence three years ago from the San Francisco area and has a one-woman show, "Moments in Time," at Pachamama's (800 New Hampshire St.). "I love Lawrence," she says, "it's such a great place to raise kids and be an artist."
Bullock's move to Lawrence has had a direct impact on her art.

"When we lived in San Francisco, it was virtually impossible to find a studio, and a printing space, and a baby sitter, and afford it all!" she says
As a result, she put her limited her creative endeavors to raising her two young children. That all changed after her move to Lawrence and she discovered the studio space at the Arts Center.
"It's a phenomenal set-up!" she says. Turns out, her new surroundings have had a direct impact on her creative endeavors and she has watched how her work has evolved. She has begun to incorporate elements of collage and stitching into her abstract prints.
"Our move to Lawrence changed the game for me and allowed me to make art on a regular basis," she says.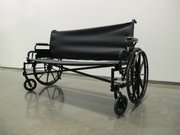 Another quality that makes Lawrence a superior arts community are its galleries like The Invisible Hand (846 Pennsylvania St.). Each month, owner Adam Smith brings artists from the area, the region, and the country. Stop by the gallery Friday to experience the work of Little Rock native, Layet Johnson. Unlike Bullock, whose printing process continues to evolve, Johnson uses a variety of media from painting, to performance, sculpture to video. Johnson aims to "disarm the viewer with a collection of work that engages and disconnects pop cultural and intellectual touch points, playing the part of amateur, trickster, editor and mimic," according to his artist statement. Friday is Johnson's second one-man show, and the first time he has been at The Invisible Hand.

Friday night is not just about individual artists. There are also several shows that highlight the works of groups of artists. Members of the Fresh Produce Art Collective have come together for a show at the Lost Art Sp_ce, downstairs from The Phoenix Gallery (825 Massachusetts St.). The show, called 2∞, is a play on the number. "Twenty-eight is a harmonic divisor number, a triangular number, a hexagonal, and a centered nonagonal number," according to a statement that accompanies the show.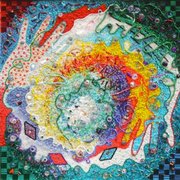 "It's a little bit playful," says artist Jesse Gray. "We are playing on the fact that it is the 28th and that sometimes random things can have more significance than we attribute to them."

The seven other artists, and members of the collective, showing at The Lost Sp_ce Friday are Jeromy Morris, Molly Murphy, Yuri Zupancic, Jeremy Rockwell, Erok Johannssen, Paul Flinders and Alicia Kelly.
"For Final Fridays we like to bring our newest works that has been done toward the theme," Gray says. "While we share a lot of the same mediums and even some of the same imagery, each of us has a unique viewpoint."
Another collection of local artists showing Friday night are members of the Lawrence Art Guild at their gallery at 1109 Massachusetts St. The show, "Winter Blitz", includes the intricate beadwork of Laurie Culling, who will display her work alongside 29 other artists. Culling, who recently resigned from her work organizing all of the art shows at the library and is past president of the guild, has been a significant member of the arts community for decades.
Talented and committed artists, just one more reason to feel grateful for our community in 2012, and to look forward for more exceptional shows in 2013.