Thursday, December 27, 2012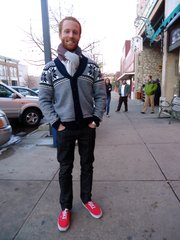 Name: Grant Holmes
Age: 22
Relationship status: Next question
Hometown: Montezuma, Kan.
Time in Lawrence: Five years
Occupation: Bonner Springs Walmart pharmacy intern, pharmacy student at Kansas University
Dream job: Professional distance runner
What were you doing when scouted? Standing in line for coffee
Describe your style: Surprisingly well-matched despite being color blind
Fashion trends you love: Tailored suits. They never go out of style.
Fashion trends you hate: Tights as pants, pastel polos
Fashion influences: GQ, Esquire, Ralph Lauren
What would you like to see more of in Lawrence? Lawrence is my oasis. It's the perfect mix of everything.
Less of? Tennis shoes, T-shirts and sweatpants
Tattoos or piercings? No piercings. No tattoos yet.
Whom do people say you look like? Every redhead ever. And Mitch from "Modern Family."
Tell us a secret… I do a killer Leona Lewis "Bleeding Love" impersonation in karaoke.
More like this story on Lawrence.com