Thursday, December 27, 2012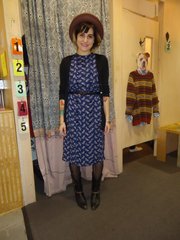 Name: Joelle Zbacnik
Age: 28
Relationship status: Taken
Hometown: Columbia City, Ind.
Time in Lawrence: 10 years
Occupation: Urban Outfitters women's accessories team lead
Dream job: Writer
What were you doing when scouted? Working
Describe your style: Mix of vintage and new pieces
Fashion trends you love: Everything! I like bow ties on girls and guys a lot.
Fashion trends you hate: Leggings
Fashion influences: www.noirohiovintage.com
What would you like to see more of in Lawrence? Legit dance parties
Less of? Ex-boyfriends
Tattoos or piercings? Yes! Quite a few tattoos. My septum is pierced, and, embarrassingly, my tongue is too.
Whom do people say you look like? My older brother. People mistake us for twins.
Tell us a secret… I'm sort of obsessed with Ashlee Simpson.