Monday, December 31, 2012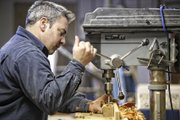 Dave Root is a guy whose feet are firmly planted in two worlds: one very practical and one totally artistic. With his custom concrete business, Atlas Archimedes Design, he manages to deftly blend the two.
Root grew up in the concrete business, following in the family trade of his father and grandfather. He learned to do commercial flatwork, pouring driveways and floors throughout high school. But Root had a taste for the artistic, earning a Bachelor of Fine Arts degree in ceramics from Kansas University. After graduating, he went back to concrete work, as well as masonry work, to pay the bills. He bought a house in North Lawrence but couldn't identify the strange material the kitchen floor was made of. So he called his dad and described it. Immediately, his dad knew that what his son was describing was terrazzo.
Having a background in concrete and ceramics, Root was instantly hooked and says that almost immediately he began experimenting with his own terrazzo formulations.
"I was just fascinated by it," he says. "The chemistry in ceramics is very similar (to concrete), so it translates well."
Even now, Root keeps meticulous notes on each custom terrazzo "recipe" he creates so that he knows what works and what doesn't.
Terrazzo is an Italian word meaning terrace. Root explains that the history of terrazzo goes back to the men who worked the marble quarries in Italy, who were allowed to take home chunks of marble.
"They'd lay it out like flagstones, fill the joints with clay or a similar material and polish it," he explains.
Today, most terrazzo is often made with cement, sand, some type of aggregate (usually bits of stone or glass) for texture and color, and often, but not always, concrete dye. Very soon after Root began to teach himself how to make terrazzo, word began to travel locally that he could create all kinds of custom concrete work. At first, he says, he was the only one in the Lawrence area doing such work. Then came the housing boom, and suddenly Root had competition. Now that the housing bubble has burst, though, Root says he's pretty much by himself again when it comes to custom concrete and terrazzo creations in the immediate area.
Though he's perhaps most known for his concrete countertops (complete with dish drain board, if you so desire), Root also casts custom concrete and terrazzo sinks, tabletops, floors, fireplaces, water features, fire pits, shingles and sculptures. He created the blue tiles on the exterior of Pachamamas, 800 New Hampshire St., as well as the Star Bar inside, which not only glitters with sparkling aggregate, but also twinkling fiber optics that Root taught himself to install in concrete.
"I invented the Star Bar," he says, grinning, "and my wife named it."
Root's work can also be seen at Boulevard Brewery in Kansas City, Mo., where he made the custom floor upon which the brewing tanks sit.
Why choose concrete over another material such as granite?
"Concrete's more interesting," says Root, explaining that concrete can be cast into a myriad of shapes and configurations and an endless array of colors. Concrete, he says, also has a little bit of "give" and can bend and expand and contract a bit, whereas stone has almost no give at all and can be prone to cracking or breaking. Ironically, with all the custom colors Root can dye concrete, there's one color that people ask for most. "Gray is pretty popular."
And Dave Root is more than just "the concrete guy." In addition to learning ceramics, he's a self-taught fine arts painter, sculptor and cabinet maker. He welds and smelts metal. He carves wood and stone, and he likes to use reclaimed materials whenever possible. It's a set of skills he's acquired out of necessity, so that when customers ask if he can do a particular type of custom work, such as a kitchen hutch with a concrete countertop, he's able to definitively reply that yes, he can. But one can't help to think that Root is a man who simply likes to learn as much as he's able.
"You can try to hire 20 different people to do those things, or you can just figure out how to do it yourself," he says.