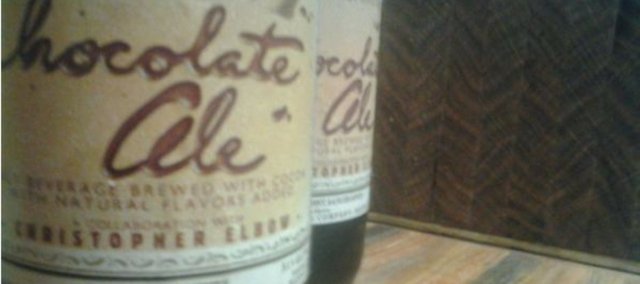 Wednesday, February 1, 2012
There may never be a more modern display of the effects of supply and demand such as the frenzy surrounding Boulevard Brewery's Chocolate Ale.
Basically: Limited product + limited time + gourmet influences = people lining up at On The Rocks at 9 a.m.
That's exactly what happened Monday morning when the seasonal specialty beer went on sale at the liquor store, 1818 Mass. Manager Matt Green bought as many bottles as he could and enforced a two-bottle maximum and still sold out by 3 p.m. that very day.
"It's just so popular and just so limited on once a year when they make it that people just go crazy for it," he says. "It might have gone even faster this year."
Last year was the first year for the beer, a seasonal collaboration between famed Kansas City brewer Boulevard and Kansas City chocolatier Christopher Elbow, and this year Boulevard brewed three-and-a-half times as much beer as 2011. It's created what the brewery calls a "phenomenon."
The gourmet roots, released around the cocoa-crazy holiday of Valentine's Day, and the small quantity meant that the second it was shelved in 2011, people like Lawrence's Philip Bennett were headed on a wild goose chase without even knowing how the beer would taste.
"I found two bottles of Chocolate Ale last year as well while living in Kansas City and attending college there," Bennett says. "My friends and I went on a three-hour long scavenger hunt around the K.C. metro and finally found it at the Berbiglia store at 75th and State Line."
Jonathan Larance struck out in Lawrence, Topeka and Kansas City before his parents told him they found nine unclaimed bottles in The Woodlands, Texas, north of Houston.
He says there's only one consumer product he can think of that elicits the excitement he's seen over the Chocolate Ale.
"The closest thing that I can think of, on a much smaller scale, is the iPhone," he says. "Some people I know went into work late on Tuesday or took work off Monday to get their hands on (the beer). It's crazy how much people were interested in this."
And now that they know how it tastes? The demand is even higher. Every liquor store we called ran out as of Tuesday. Something that has Sarah Schmidt left in the lurch.
"(Tuesday) I went to a few places around town over lunch, but was told that they received their chocolate ale on Monday and sold out in a few hours. My husband went to two liquor stores near his work in Overland Park over his lunch. Both got their shipments (Tuesday), but both were sold out already. One of the stores even told him that less than 25 people were able to buy the ale," Schmidt says. "I know there are lots of places that have it on tap, but it's not quite the same as being able to drink it at home."
It is true that several bars and restaurants do have the ale on tap, but if you'd like a glass, you better get going says Dan Koehn, owner of Set 'em Up Jacks, 1800 E. 23rd.
"We started off with six kegs and I believe we're already on our fourth, so it's not going to last very long," says Koehn, who picked up twice as many kegs this year as last. "That's what we posted on Facebook (Wednesday), 'You better come quick.'"
Over at Dempsey's Burger Pub, 623 Vt., they are parceling out their kegs to keep it in stock and letting customers know over Facebook and Twitter when they'll be tapping a keg. According to Dempsey's Facebook feed, customers drained Tuesday's keg in 15 minutes.
"Otherwise I think it would be gone super, super soon," says waiter Ashley May of the limited sales. "I haven't tried it myself, I think I'm going to have to wait like everyone else ... but I want to try this one so bad, though."
As for the taste? Jeremiah Ferris tried it at 11 a.m. Monday morning at Set 'em Up Jacks. He says this year's ale is even better than last year's.
"I think they put in a bit more hops and a bit more cocoa into it, giving it a more full chocolatey flavor that can pack quite a hit with the hops," says the Lawrence resident. "After the first glass I was convinced it was great."
Bennett is hoping so. He's saving his two bottles — bought after watching Twitter closely on Monday to find out who still had some — for Feb. 14.
"I haven't cracked open a bottle of this year's Chocolate Ale yet, as I'm saving it for a special someone on Valentine's Day," Bennett says. "Hopefully this year's blend will be as good as advertised."
Digital editor Alex Parker contributed to this report
More like this story on Lawrence.com