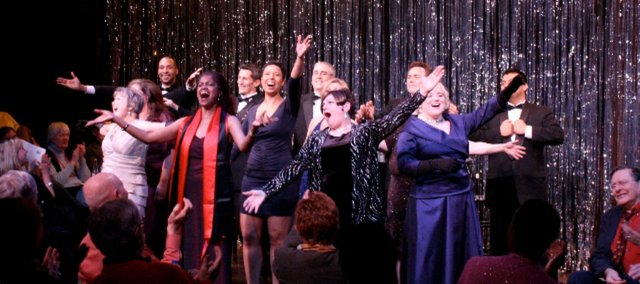 Wednesday, February 1, 2012
Sarah Young may have been crowned champion diva last year, but she insists she did not have to claw her way to the top and no feelings were hurt in the process.
"There are no catfights," Young says. "No hair-pulling."
So when Young looks to defend her title Friday at the second annual Dueling Divas competition, she'd be happy to relinquish her tiara — if it means the fundraiser's beneficiary, Theatre Lawrence, gets a big chunk of change for its operating budget. The event takes begins at 6:30 p.m. at Theatre Lawrence, 1501 N.H.
"The idea is to show yourself off at your best and reflect who you are," Young says. "But we really want to show the audience a good time. It's all for the theater."
This is the second year for the singing competition, which last year replaced "Songs for Sweethearts" as the primary annual fundraiser for Theatre Lawrence, formerly known as Lawrence Community Theatre. Last year's event raised $15,500.
This year, eight women will sing two songs each to determine the winner. Audience members will determine the winner with their money — the contestant with the most donations in their name will walk away with this year's tiara.
Voting already is underway at www.theatrelawrence.com, proving this competition might not be completely about singing ability.
In addition to Young, an English instructor and part-time opera singer, the competitors are:
• Amber Dickinson, a Ph.D. student at Kansas University and frequent performer at Theatre Lawrence;
• Julie Dunlap, a humor columnist for the Journal-World making her singing debut;
• Geneé Figuieras, a dental hygienist who has performed in theater productions throughout northeastern Kansas;
• Susan Hash-Hires, a church choir conductor, teacher and clinician;
• Patty McGrew, a local real estate agent;
• Melia Stockham, a corporate trainer for Blue Cross and Blue Shield of Kansas, Ph.D. candidate at KU and a frequent volunteer and performer at Theatre Lawrence;
• Stacy Stringer Walters, a program manager at KU Continuing Education who sings with the Jazzhaus Big Band and other groups.
For some, such as McGrew, Dueling Divas marks a rare stage appearance. McGrew sang opera professionally when she was younger but hasn't performed much since moving to Lawrence in 1984. She also competed in last year's Dueling Divas.
"I had a great time," she says. "Otherwise, I probably would have been scared to death."
This year, McGrew is planning to sing Disney tunes. Last year, she focused on opera.
"It's amazingly varied," she says of the event's musical styles. "I do the things I feel I can do. I don't do the hard rock or the pop or the country."
In addition to the performances, the evening includes drinks, food catered by Maceli's and a silent auction.
This year's fundraiser comes as Theatre Lawrence prepares to break ground on a new building that will include a 300-seat auditorium. Construction on the building, located near Sixth Street and Wakarusa Drive, is set to begin this winter, and is expected to be complete within 12 to 15 months. The $6.2 million facility was the result of a recent capital campaign. The Lawrence City Commission and the Douglas County Commission also each pledged $100,000 to the project over the next five years.
But fundraising for the new facility put a dent in donations for the organization's annual operating budget, says Kay Traver, Theatre Lawrence's marketing manager.
"It is absolutely crucial," Traver says of Dueling Divas. "With the success of the capital campaign, donors who would donate to normal operating costs were putting money in the campaign. There's a huge hole in operating costs just so we can put on shows."
That combines with a $14,000 decrease in government funding following the elimination of state funds to the Kansas Arts Commission and the federal grant dollars that were tied to state support, Traver says.
And that's why the divas are hoping their songs garner enough funds to keep Theatre Lawrence's recent fundraising momentum alive.
"Vote early and vote often," Young says. "People will have a lot of fun, the food is wonderful and the performances are wonderful — and it's all for a good cause."