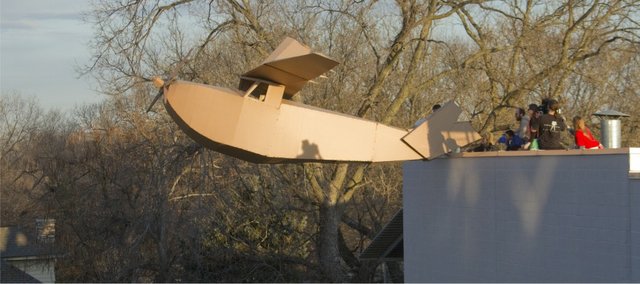 Thursday, February 2, 2012
Movies are shot with multiple angles, edited together with after effects, and put together slowly and meticulously until the story is complete. The same amount of writing, rehearsal and staging goes into live theater, but the story isn't assembled later—it unfolds in real time.
Eight local filmmakers putting on "On Screen Offspring" Friday, Feb. 3 and Saturday, Feb. 4, are facing that reality this week as they stage seven original one-act plays at the Lawrence Arts Center, 940 N.H. The twist—one that these filmmakers are probably more comfortable with—is that each play must also use some kind of filmed element as well.
"On Screen Offspring" is the brainchild of LAC's digital media supervisor Marlo Angell, who also teaches screenwriting. The idea came to her during a reading of her class's scripts by community actors. The moment when a script comes alive at a reading is a time when filmmakers aren't focused on all the technical aspects of their craft—just story and character, says Angell.
"And I thought that was such a learning experience for me as a teacher—focusing solely on those elements that are so are important to any film," says Angell. "I thought, wouldn't it be amazing to find a group of filmmakers that would go outside their comfort zone and leave behind the technician role that we usually carry and expand the role of theater and use film elements inside the play somehow."
Even though the requirement was that each play contain some sort of video component, there is no limitation being placed on how it will be used. In "On Screen Offspring," sometimes the screen will represent a dream, sometimes it will be a backdrop, sometimes it will project an image that's happening in the theater at that time, and at least once—in a novel role reversal—the screen will project the dialogue rather than the actors speaking their lines.
Each director is using the multimedia aspect in a slightly different way, and the original one-acts being performed are in all different genres. There's a science fiction play, a teen romance, a family drama, and even a silent film comedy, supported by live original music.
LAC performing arts director Ric Averill, who has a long line of both film and theater credits, took the project as a personal challenge to write something a little different. His one-act play, entitled "Self-Help Video Store," is the "silent play," as he calls it. He says it's "more a tribute to movement and pictures than words."
"With film you can go anywhere, anytime, with any number of people—depending on budget—and you can enter a scene at its beginning, middle, or end. So much is about the moving pictures," says Averill. "Plays are dependent upon words in so many ways."
"Twelve Second Messages," written and directed by filmmaker Chris Blunk, is about a five-man crew of a space shuttle orbiting the sun. The crew has only 12 seconds to send a message back to Earth. Realizing the script as a play means he doesn't have to create an expensive, detailed space-station set, and instead can rely on the audience's imagination.
On the other hand, by using the filmed elements projected as the ship's viewing screen, he is able to add another dimension to his play. "The show's adapted from a short film script that I started and hastily abandoned a couple years earlier because it was too talky," says Blunk. "It was fun to write and say out loud, but it wasn't interesting me visually. It would have been like if the makers of the old Flash Gordon serials tried to do '12 Angry Men.'" One major difference: Blunk's play is also a comedy.
Filmmakers Ranjit Arab and Laura Kirk have co-written a political satire called "American B.S." by using scenes from a previously written screenplay. "Theater involves the audience," Kirk says, "so we chose our debate scene to do live since the audience will shape that piece of it." As the audience divides attention between the live debate and a filmed news report, it will also have to think about the ways in which politicians manipulate cameras for their own purposes.
Local artist Juniper Tangpuz, whose beautiful cardboard sculptures adorned the rooms of the LAC until just recently, built a 23-foot cardboard airplane sculpture for filmmaker Misti Boland's one-act. Since it was needed for one of the filmed segments, it was promptly thrown off the roof of the Arts Center to simulate a plane crash—all caught on camera of course.
"On Screen Offspring" also includes works by Osbern and Christie Dobson.
Angell, who is also directing her own play called "Guaranteed," is having a great time watching these filmmakers rise to the challenge of live theater. She counts herself in that company as well.
"With film, we have the luxury of doing take after take and we tend to find the story in post-production. Even in terms of the camera—the way you cover the scene—you do things a certain way," she says. "You might focus on a close-up of an object, or you edit it in such a way that you're cross-cutting between time and place. With theater, you direct it up to a certain point and on performance night, it becomes what it is. Nobody is saying 'cut.'"
By the very nature of their being, the movies can enter theater, but the three-dimensional aspect of live theater can never truly enter the movies.
When Jeff Daniels walks off the screen in Woody Allen's "The Purple Rose of Cairo" to greet a lonely Mia Farrow, sitting in the movie theater, he can only go so far. He's still in a movie, after all.
This weekend, some of the area's best filmmakers finally get an op for one of their characters to walk off the screen into real life.
Tickets are available at www.lawrenceartscenter.org, by phone at 785-843-2787 or at the Lawrence Arts Center.