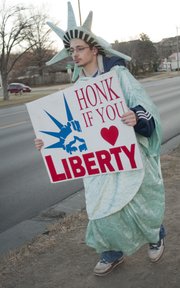 Trayvan Sullivan, 29, swaggers up and down the sidewalk near the corner of Wisconsin and Sixth streets. He is wearing a Statue of Liberty costume with a green velour robe and a 7-point crown. Slung on his shoulders is a large white sign that says "Honk if you Love Liberty."
Sullivan grins, sways and gesture so drivers will honk their horns. The sky is pale, and every now and then, beads of rain fall from fat gray clouds. It's only 5 p.m., but the sun has faded pink, and the dominating light comes from the orange glow of street lamps and the yellow beams of car headlights.
Suddenly a driver in a blue sedan honks. A few seconds later, the subtle sound of a horn, barely audible, bleats from a small black car sloshing by. Sullivan grins.
"I just listen (to music), jam out, wave to people and smile. I might blow a few kisses or something like that," says Sullivan.
Sullivan is a waver for Liberty Tax, 1530 W. Sixth St. It's the second time he's performed the gig. Last year he was a waver at Liberty Tax in Shawnee.
"They had a mascot uniform you could put over your shoulders," he says. "That sucker was heavy, especially when it snowed. … Nobody could see who the heck I was, so I didn't care."
Most drivers smile or wave at Sullivan. A few honk. But one or two cast looks of disdain or yell.
"It's just like any other job that you might have where people aren't going to like what you do," says Sullivan. "People flip you off, yell obscenities, but the majority of the people are waving and smiling and honking their horns."
Tucked under Sullivan's uniform is an MP3 player. Drake, Rascal Flatts, Little Wayne: music blasts into a set of ear phones, which rest under Sullivan's Liberty crown.
"I listen to music I can move and groove to. If you don't, it's going to be boring," he says. "When people are driving by and they see this sign, they might have got (their taxes) done … somewhere else and then when they see us out here dancing they think, 'Huh, that looks pretty interesting, let me go check out Liberty Tax.' I think it's very effective."
Jerry Coatney, an accountant at Liberty Tax, says Sullivan is an ideal waver.
"He's very outgoing," says Coatney. "That's what we look for in wavers. Someone who is not afraid to have fun and go out and dance to show the sign around."
Sullivan never slumps his shoulders or drags his feet. He dances and waves with energy and enthusiasm.
"I am an energetic person," says Sullivan. "I get on people's nerves as is because I'm hyperactive. When I come out here, I can listen to my music, and I can pretty much … act a fool and get away with it."
The job has challenges.
"It's a lot harder than it looks," says Coatney. "Especially with the weather. It can get very cold."
Sometimes temperatures plunge into the 20s and teens. So Coatney tries to schedule shorter shifts — not longer than four hours — to keep wavers from freezing.
And Sullivan regularly checks the forecast on his phone before trekking to work so he knows what to expect.
"Earlier I could feel the drizzles, and I was starting to freak out because I didn't even look at the weather (today)," says Sullivan. But the rain abated. And Sullivan strutted from one end of the sidewalk to the next, blaring his music and dancing, offering a bright smile to the drivers coursing by.