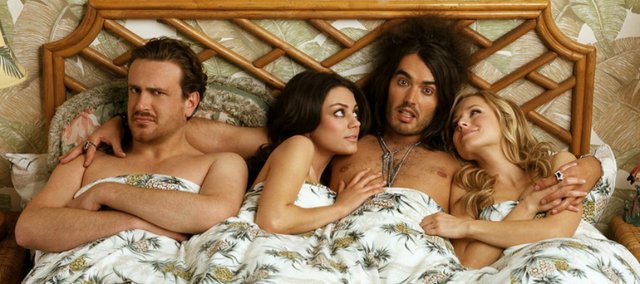 Sunday, February 12, 2012
Choosing a movie to watch on and around Valentine's Day is like navigating a minefield. Your local video store and Netflix are littered with soul-killing romantic comedies. Then again, maybe soul-killing is what you're looking for, especially if you hate Valentine's Day. Here are five movies for those who want to celebrate the romance of the day with something sweet and charming, and five more films that prove that happy endings are only in the movies.
5 great rom-coms for Valentine's Day
"Waitress" (2007): Jenna the waitress (Keri Russell) loves to cook pie. They are the truest expression of her soul. She hates her abusive husband. The two combine when she makes a quiche of egg and Brie cheese with a smoked ham center and calls it I Don't Want Earl's Baby Pie. When she begins to see her new married obstetrician (Nathan Fillion), old-fashioned sparks fly in the sweetest of ways. "Waitress" is a charming movie about a woman who finds the courage to make hard choices, as she goes from baking a Pregnant Miserable Self-Pitying Loser Pie to realizing what's really important in her life.
"Wimbledon" (2004): Paul Bettany is a tennis pro on the downward slump and Kirsten Dunst is a young American phenom in "Wimbledon," a terrific rom-com set against the backdrop of the big tournament. What's refreshing about "Wimbledon," besides the electrifying chemistry of Bettany and Dunst, is that Dunst's character is the more aggressive of the two. She knows what she wants and she knows how to get it. Bettany's fortunes, buoyed by their relationship, improve, but what will this sexual liaison do to Dunst's chances?
"Forgetting Sarah Marshall" (2008): Before writing and starring in last year's reboot of "The Muppets," Jason Segel did the same in this raunchy rom-com about a guy who goes on vacation to forget his ex-girlfriend (Kristen Bell). It may be a bit too convenient that she shows up at the same Hawaiian hotel with her new boyfriend (Russell Brand) in tow, but that's easy to forgive because the movie is full of witty dialogue and funny truths. Mila Kunis is the cheery but wary girl he falls for while on the island, and before things go right, they go terribly wrong — in the funniest way.
"Ghost Town" (2008): For all of the nasty barbs Ricky Gervais threw at celebrities during the Golden Globes last month, it's hard to think that at one time he made a perfectly charming romantic lead. In "Ghost Town," Gervais is a cranky dentist who is harassed by the ghost of a dead man (Greg Kinnear) trying to make amends with his widow (Téa Leoni). Gervais' quick wit and cynicism are used to great effect, and he's actually quite believable as he begins to warm up to the idea of romance. "Ghost Town" is a clever rom-com that gets at the heart of why people believe in ghosts in the first place: People need closure.
"(500) Days of Summer" (2009): Joseph Gordon-Levitt is a hopeless romantic and Zooey Deschanel is an unknowable mystery in this melancholy rom-com with great highs and great lows. "(500) Days of Summer" chronicles their relationship, told completely out of chronological order, and it does what few other romantic comedies can ever seem to do convincingly: It celebrates those special little moments that two people can share together, whether those moments end up creating a substantial and long-lasting relationship or not.
5 films for those opposed
"I Love You Phillip Morris" (2010): "I Love You Phillip Morris" is about infatuation, obsession, and the insane lengths people will go to when they are deep in love's sway. Jim Carrey is a freewheeling con man, narrating the movie from his death bed, who falls for a doe-eyed young man named Phillip (Ewan McGregor) that he meets in prison. No prison sentence or maximum security prison can keep these men apart, until one realizes the deep betrayals of the other. This hyperactive dark comedy is full of uncomfortable laughs and no happy endings.
"Audition" (1999): One of the most disturbing films ever made, Takashi Miike's "Audition" takes a Japanese tradition of demure young women auditioning to be mated with middle-aged men and turns it on its gory, dismembered ear. A widower thinks he's found the perfect girl until control of the situation reverses and she tortures him with needles and cuts off his leg with a wire saw. "Audition" works on a visceral level as a masterfully wrought horror film, but it also has something to say about a disturbing culture of servitude.
"Closer" (2004): Clive Owen, Julia Roberts, Jude Law and Natalie Portman inflict cruel and unusual psychological torture upon each other in Mike Nichols' adaptation of a play. Owen and Portman were Oscar-nominated, but all four actors excel at laying their most intimate feelings bare and letting the others stomp all over them. The dialogue is biting and intense, and once it gets going, there's rarely a comfortable moment to be found in the entire movie. This one will leave you squirming in your seat.
"Belle de Jour" (1967): Luis Buñuel's classic "Belle de Jour" explores the chasm between one woman's masochistic sexual fantasies and the prim and proper life that she knows she must uphold. Catherine Deneuve is icy cold porcelain perfection as a Parisian housewife who isn't interested in her husband, but harbors dark sexual fantasies. She eventually takes up daytime residence working in a brothel until her secret is exposed with violent repercussions. For some, love and sex aren't related at all.
"Body Heat" (1981): This stylish neo-noir starring William Hurt and Kathleen Turner is the best of both worlds: steamy and diabolical. Florida is experiencing a heat wave, and a wealthy businessman's wife (our femme fatale) starts up a torrid affair with an inexperienced lawyer. Turner convinces Hurt to kill her husband, but things go haywire when he finds out she may not be who she says she is. "Body Heat" is a sexy tribute to the noir classics of the '40s and '50s, and just like those movies, it ends with bruised egos and dead bodies, not true love and roses.
More like this story on Lawrence.com