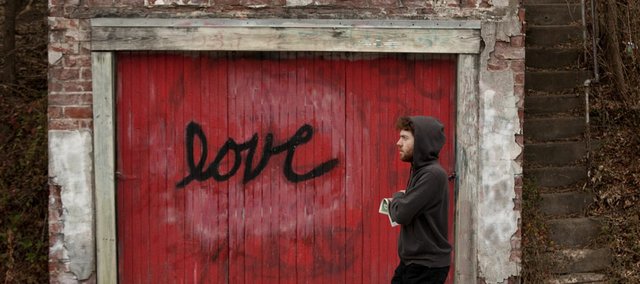 Sunday, February 12, 2012
The pressure is on this week for Lawrence resident Zach Palasz. Tuesday is not just Valentine's Day — it is also the birthday of his girlfriend, Katie Goron, and their third anniversary as a couple.
"It's tough every year," says Palasz, a senior studying visual art education at Kansas University, and a bellhop and valet at The Oread hotel.
So where is a couple to go for this special day? The answer to that, of course, depends on your significant other's likes and interests. And fortunately for Palasz, Lawrence has a wide array of options.
If your special someone happens to be the athletic type, she could enjoy a run along the levee in North Lawrence, bowling at Royal Crest Lanes, or a stroll through the Booth Hall of Athletics at Allen Fieldhouse.
None of those options strike a cord? No worries — there are plenty of other places for couples, from lovers of history to lovers of animals. There are places for those who can spend a lot of money, as well as places for those on a budget.
If your special someone appreciates the rich history of Lawrence, why not start the evening at Teller's, (746 Mass.)? The building, which has been around since 1889 and served as a bank until the 1970s, is also the reported site of a 1932 robbery by Clyde Barrow and his gang, soon after he was released from Eastham Prison Farm in Texas, and just before his two-year bank-robbing spree with his Valentine, Bonnie Parker. Chefs at Teller's have planned a special four-course meal for couples who want to spend Valentine's Day at this Lawrence staple.
After dinner, stroll down to the historic Liberty Hall (644 Mass.), a building that has spanned three different centuries, as an arts destination. Try not feeling like you have stepped back into time if you stay to see "The Artist," the 2011 silent film that has been nominated for 10 Oscars.
Photo Gallery
Lovely Lawrence locations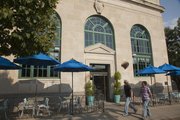 So where is a couple to go for this special day? The answer to that depends on your significant other's likes and interests. Fortunately, Lawrence has a wide array of options.
After the film, cross the street to The Eldridge Hotel (701 Mass.) to top off the evening with coffee or a nightcap at the Jayhawker bar or Ten. Or perhaps you will want to keep the romance going by staying overnight. The hotel is offering a $115 Sweetheart Rate, good for Feb. 14 only.
Are you and your partner on a tight budget? You could still spend a romantic evening downtown for practically no money at all, including gas and parking. Just take the T downtown and once there walk over to the Japanese Friendship Garden located, next to the Watkins Community Museum of History (1047 Mass.). This zen-like space is unlike most gardens because it is just as beautiful in the middle of February as it is in June.
If Tuesday proves to be too cold for you and your date, walk a half block south to the 1109 Gallery, open from 11 a.m. to 5 p.m. Tuesday. Its current exhibit, "Gratitude," features the work of local artists and members of the Lawrence Arts Guild. Another option is the main gallery at the Lawrence Arts Center (940 N.H.) where you can see Jennifer Crupi's "The Articulate Body" on display through March 8. The New Jersey-based artist and professor has spent her career examining forms of nonverbal communication, and upon seeing the show, you and your partner should plan to be enlightened about the messages your body language is sending.
All that art and beauty may work up an appetite, and if that is the case, walk over to one of downtown's cupcake shops such as Billy Vanilly (914 Mass.) or Cupcake Construction Company (727 Mass.) to share a sweet treat with your sweetheart.
If you and your loved one are animal lovers, why not start the day by giving your other best friend a Valentine with a trip to the dog park. Then, after dropping Fido back at home, head over to Pet World (711 West 23rd St.). What animal lover wouldn't enjoy cuddling bunnies, talking to parrots, and gazing at the fish in this wonderfully unique pet store? Afterward, walk over for a romantic dinner at Thai House in the same shopping center. Or, better yet, try one of Lawrence's newest restaurants, 8 Flavors, (2210 Iowa), which opened Feb. 8. Restaurant owner Will Soo, who helped to open Thai House, promises fresh seafood and roast beef on his buffet featuring international cuisine.
Maybe you and your loved one met at KU and you would like to revisit some of the wonderfully romantic places on that campus? Danforth Chapel is open 7:30 a.m. to 10 p.m. Monday through Friday for meditation. You could also go to Potter Lake, the Campanile or the Spencer Museum of Art. Your loved one might even enjoy seeing the funky bright magenta "love" door on Mississippi Street, right across from the stadium. This ordinary garage door has become a popular place for engagement photos ever since a sentimental soul transformed the space with a few cans of paint.
However you plan to spend the day, perhaps the most important thing to remember is that Tuesday is really not about where you are, but rather who you are with, and that's not just for Feb. 14 but every other day of the year as well.
As for Palasz? He is planning to spend Tuesday evening with Goron at Pachamama's.
"I love that place," he says. "It has a great atmosphere and the food is always incredible."
More like this story on Lawrence.com