Monday, February 20, 2012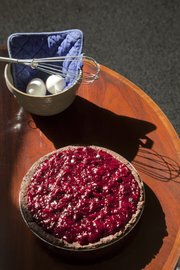 It wasn't until I turned the calendar page for February that I realized we were getting an extra day. With an extra day comes an extra dessert, right? Yeah, I thought so, too.
Since I'm trying to stay on a reasonably healthy streak diet-wise, I decided to come up with something tasty and low-sugar.
Behold, I bring you Leap Year Pie! In place of sugar, I used little packets of Xylitol. This stuff is pretty neat. Low glycemic impact, plant-derived and possibly good for your teeth. Wanna see what we can do with it? Well, follow along at home!
The night before you plan to bake, line a mesh strainer with damp cheesecloth and set it in a bowl. Scrape in one pound of ricotta cheese and set the whole getup in the fridge. The next day, dump the cheese into your mixer bowl and beat it for a few minutes on medium speed. Add four ounces of cream cheese, four packets of Xylitol (or your preferred sugar substitute), one tablespoon of vanilla and two eggs. Blend on medium speed for two minutes. Pour the mixture into a bowl and chill it in the fridge.
For the crust, cut five tablespoons of cold butter into little pieces and blend them with two eggs. Add one box of chocolate sugar-free cake mix. It'll take several minutes, but blend and scrape until a stiff dough forms. Press the dough into a ball, bundle it in plastic wrap, and refrigerate it for 20 minutes.
Preheat your oven to 325 degrees. Roll out half of the dough between two sheets of waxed paper and fit it into a greased 9-inch pie pan. Trim the edges and put the excess, with the remaining dough, back in the fridge. You can use the extra dough to make a second pie, or bake it into cookies. They bake up nicely at 375 degrees for 8-10 minutes.
Pour the cheese filling into the pie shell and bake it for 40-45 minutes. The center will be set, but still wiggly. Put the pie on a rack to cool. In the meantime, prepare the cherry topping.
Get yourself a 12-ounce bag of frozen sweet dark cherries. Quarter the cherries and put them into a small saucepan with two tablespoons of orange juice and two packets of Xylitol. Cook and stir over medium-high heat until the mixture begins to boil. Working quickly, add two tablespoons of cornstarch and stir until the topping thickens. Remove from heat and cool in a bowl.
Spread the cherry topping on the pie and chill it until you're ready to serve.
You can make a "cold" version of this pie by pre-baking the crust for 8-10 minutes at 375 degrees. Prepare the filling as directed, but replace the eggs with half of a small box of sugar-free vanilla instant pudding. Spread the filling in the cooled crust (no need for further baking) and add the cherry topping.
Enjoy!
— Audrey Lintner can be reached at bitesighs@hotmail.com.