Wednesday, February 22, 2012
Photo Gallery
Party Pix: CBS dating show mixer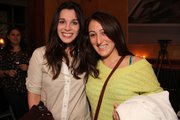 These singles were ready to mingle at Teller's Wednesday night, as they joined others interested in appearing on the new CBS dating show, "3."
It started as a joke, of course.
"A friend sent me an email and was like, 'Wouldn't this be funny?'" Marissa Stromgren said with a big, confident smile. "The more I thought about it, the more I thought, 'Why not?'"
Why not give it a chance, she says, because Stromgren is looking for love.
She was one of about 10 people who put their hearts out at a casting event for "3," a new CBS dating show set to begin production sometime this summer. The "mixer," which promoted applying online for the show billed as a fresh alternative to those like "The Bachelor," was held Wednesday night at Teller's, 746 Mass.
Dating is rough, Lawrence is filled with singles but not always ways to meet them, and there's "nothing to lose" in trying out for the chance to find romance on national television, Stromgren said.
"It's challenging to be a strong, independent woman these days, especially in the Midwest," she said. "I've never been shy, always outspoken."
Katie Meserko, KU graduate student, was egged on by jokester friends to try out, too. They didn't show up, but, chatting with producers and the one male applicant, she remained upbeat.
"I just got back from an internship; I've been single — I figured this is the perfect time to try it out and have an adventure like this," she said.
That one man who turned up, Washburn University student Blake Bryant, stumbled onto the online application when checking on his application for CBS' "The Amazing Race." He didn't get on there, but no matter.
"I'm open to new opportunities," he said.
He's looking for someone who's "extremely confident and passionate in who they are" and who can "keep up with me but also keep me in check."
Whether he'll be able to search for that person on network television remains to be seen. If the Lawrence applicants are selected for further rounds in the application process, they'll be contacted sometime this spring. Meanwhile, there's another chance to mingle with producers and applicants from 7 p.m. to 9 p.m. Friday at the Well, 7421 Broadway St., in Kansas City, Mo. And they're still accepting applications online.
The show won't start production for several months — how long exactly depends on whom producers discover in the casting process — but when it does, it's set to feature three women who live together and come from different age, experience and social backgrounds.
Casting associate Marschell Becton said the show is looking for people who don't necessarily fit the mold of "reality TV star" or who even really wants to be one.
"We're interested in real Americans who are interested in finding a connection," she said.
The three women will speed-date the men and offer suggestions to each other for a final coupling pick. There's no flashy engagement at the end, Becton said, and the emphasis is in showing as realistic a dating experience as possible.
"It's about the reality of dating, not the drama of dating," she said. "We're just meant to be flies on the wall."
Stromgren agreed that the "fresh" format of "3" appealed to her.
"If you can't rely on other women to give advice on dating," she said, "who can you trust?"
More like this story on Lawrence.com