Thursday, February 23, 2012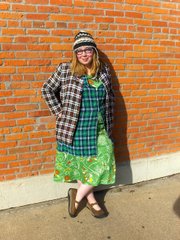 Name: Ursela Hemman
Age: 21
Relationship status: Happily in a relationship
Hometown: Hutchinson, Kansas
Time in Lawrence: Three years
Occupation: Student, English major
Dream job: Working a cushy office job for some terrible company.

What were you doing when scouted? I am going on an adventure with my neighbors!
How would you describe your style? Like the '70s, '80s, '90s and 2000s threw up on me.

Current favorite fashion trends: All of them. I like silly and/or fancy hats.

Fashion influences? I like the style of that weird aunt everyone has that never married and never had kids.

What would you like to see less of in Lawrence? Freshmen and Johnson County drivers.

Do you have any piercings or tattoos? My nose is pierced.

Tell us a secret! I really, really, really like Ke$ha.