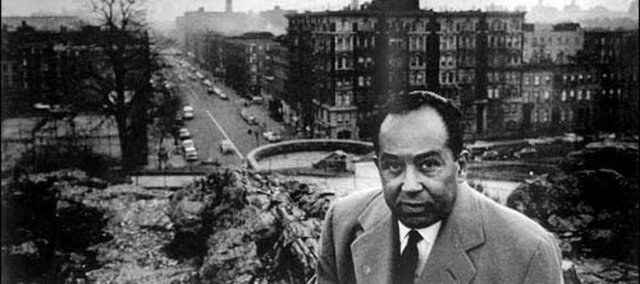 Monday, February 27, 2012
Now and then it is helpful to remind ourselves of some of the great people who have called Lawrence home over the years. One of our town's most famous sons, Langston Hughes, would have turned 110 years old on February 1, and what better way to honor the writer and leader of the Harlem Renaissance than to recall some of the events which helped define him, and visiting the locales where those incidents occurred?
"Langston Hughes is one of the most important people to be shaped by the Lawrence community," says Hughes scholar Denise Low. "Lawrence and his grandmother's household were his home base until he was a teenager."
Although neither of the places he called home are still standing (732 Ala. and 731 N.Y.), there remain several buildings which were important to the poet and writer during his time in Lawrence.
While he doesn't mention the Carnegie Library specifically, no doubt he spent many hours at the building at 900 Vt.
In his autobiography, "The Big Sea," he writes: "When I was in the second grade, my grandmother took me to Lawrence to raise me. And I was unhappy for a long time, and very lonesome, living with my grandmother. Then it was that books began to happen to me, and I began to believe in nothing but books and the wonderful world in books."
Hughes' life with his grandmother was, by all accounts, stark. Not only was she emotionally distant, money was scarce.
"My grandmother was very proud," wrote Hughes. "She tried to make a living by renting rooms to college students from Kansas University; or by renting out half her house to a family. … We were never quite sure the white mortgage man was not going to take the house. And sometimes, on that account, we would have very little to eat, saving to pay the interest."
Hughes' grandmother died when he was 12, and he moved into the home of James and Mary Reed, who were members of St. Luke's AME Church, 901 N.Y. Hughes loved the Reeds, and he writes fondly of them in "The Big Sea." He also writes of "Auntie" Reed's desire for him to be saved, and of the revival at the church "to bring the young lambs to the fold" when he was 13.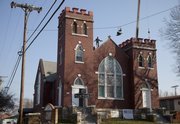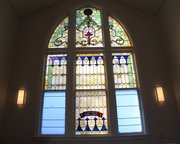 "My aunt told me that when you were saved you saw a light, and something happened to you inside! And Jesus came into your life! And God was with you from then on!" he writes. "She said you could see and hear and feel Jesus in your soul. I believed her. I had heard a great many old people say the same thing, and it seemed to me they ought to know. So I sat there calmly in the hot, crowded church waiting for Jesus to come to me. … Finally all the young people had gone to the altar and were saved, but one boy and me."
Hughes writes of waiting to see Jesus but that he never appeared. So finally, "to save further trouble," he got up to be saved. "Suddenly the whole room broke into a sea of shouting, as they saw me rise. Waves of rejoicing swept the place."
Later that evening Langston writes that he went home and cried. While his aunt attributed his tears to the holy spirit, Hughes admits that he cried because he "couldn't bear to tell her that I had lied."
His aunt attended services and Sunday school every week, but his uncle did not.
"In fact, he washed his overalls every Sunday morning (a grievous sin) in a big iron pot in the back yard … But both of them were very good and kind — the one who went to church and the one who didn't. And no doubt from them I learned to like both Christians and sinners equally well."
Historical accounts suggest that Hughes was a quiet child. Former teachers and friends, mentioned in Arnold Rampersad's biography (Oxford Press, 2002) remember him as a "gentle" and "lonely" soul.
"Langston was 'a very hardworking boy,' who apparently never studied much but was brilliant, always near the top of the class," recalled a childhood friend, John Taylor.
Despite his reserved nature, Hughes was not about to let an injustice go unchallenged, and such was the case when he was a middle schooler and attended the integrated Central School, at the corner of Ninth and Kentucky streets. One day his teacher placed all of the black students in their own row. Langston organized a quiet protest and rebuke of the teacher's actions by printing cards that said JIM CROW ROW and placing them on each black child's desk. He was expelled and was readmitted only after several community leaders spoke on his behalf.
Lawrence gets to claim one of the most important writers of the 20th century, and we could argue that it is here he first discovered his voice. These stories suggest this is where he discovered a love of the printed word, he first pondered spiritual questions and he recognized his power to effect change.
We could also argue that his spirit is alive and well because of what the buildings that stood during his lifetime mean to others who are living today: "I so appreciate Hughes' innovations in so many areas of literature — spoken word with music; drama; journalism; translation; poetry and fiction and memoir," says Low. "Because so many of the buildings are still standing in Lawrence, I feel his presence, and it is inspirational for writers."