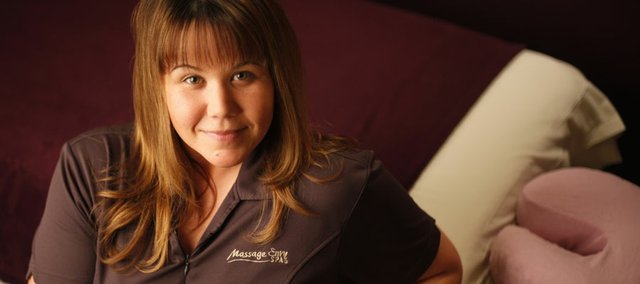 Monday, February 27, 2012
Mendy Morgan recognized the benefits of massage at a young age: As a child she would massage her mother's feet, rub her grandmother's arms and legs and work out the kinks in her friends' shoulders at basketball practice in middle school.
Now Morgan is working out peoples' knots as a professional massage therapist at Massage Envy. According to Andy Sherman, clinic administrator, Morgan is one of the most requested masseuses he has. And Morgan is just as attached to her clients as they are to her.
"I get to know them," she says. "I get to know their problem areas and their bodies and what kind of pressure they prefer.
"I have the most appreciative clients … they leave very satisfied … and that's a good feeling."
There's a famous episode of "Seinfeld" called "the Masseuse" in which Jerry dates a massage therapist who refuses to give him a massage. One of the defining themes through the show is that Jodi, the girlfriend, is too tired to perform what she's best at for Jerry. Morgan says her husband knows that feeling.
"We have a standing joke," says Morgan. "I'll tell someone I'm a massage therapist, and he'll say 'What? You're a massage therapist?' Because he doesn't get to reap the benefits."
More than 70 people per month reap the benefits, and one of them is Jane Garvin. She has been receiving massages from Morgan since 2005. Morgan was still training at Pinnacle Career Institute then, and she asked Garvin to be a practice subject.
Morgan's intention did not have a selfish root. At the time, Garvin was mourning her mother, who had just died, as well as grieving for an ill sister, who died soon after. Garvin had been internalizing the stress of both traumas. She was tense and she was in pain. And then she saw Morgan.
"She was good from the beginning," says Garvin. "She could figure out where I was hurting. She's intuitive, she's good about asking where you have your issues, but she's also done enough school and enough massage that she pays attention. It's not just rote."
Morgan's skilled hands have helped knead out pain and locate problems at their source. She does not assume that the location of a pain is the same as its source.
One case Morgan fondly remembers is of a sign language interpreter who had come to her in deep agony. The client's arms were aching so much that she was certain she would have to quit her job. Morgan gave her a massage. She found knots in the woman's shoulders and neck, working them out so that the client was able to return back to work painlessly on Monday.
But not everyone enjoys massage. Morgan's father, for instance, will only let her work on him if he's really hurting. And some people can never relax.
Morgan has developed methods to help people wind down: in addition to the low music, dim lights and calm environment, she reminds them to breathe slowly and deeply, and she begins with slow strokes.
Still, most people keep at least one part of their body tense: a fist clenched, or an arm raised, gripping the table.
Even so, the majority of people are like Jerry Seinfeld. At parties, friends will thrust hands and arms and shoulders at Morgan, hoping she'll do her magic. She has a friend who puts out her hands every time she comes over.
And Morgan's son, Chase, 10, has been receiving massages from Morgan since he was a baby.
"If I have my massage table out, he climbs right up and he lays face down," says Morgan. "He wants me to rub his back a lot of nights before he goes to bed."
But Chase repays the favor.
"He has the perfect size little elbows that will get the knots in my shoulders," says Morgan.
Like his mother, he knows the benefits of massage at a young age.
More like this story on Lawrence.com