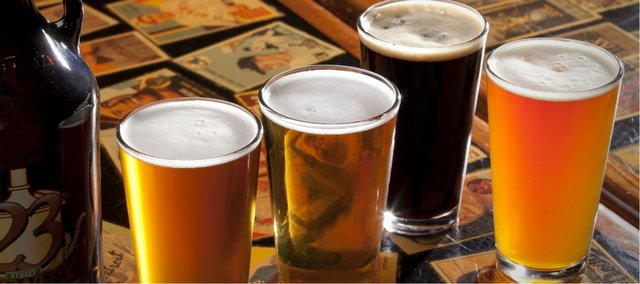 Tuesday, February 28, 2012
Who's attending
More than 20 breweries will be at the Kansas Craft Beer Exposition. For a full list, visit www.kscraftbrewfest.com.
23rd Street Brewery, Lawrence
Free State Brewery, Lawrence
Boulevard Brewing Co., Kansas City
McCoy's Public House, Kansas City
Flying Monkey, Kansas City
Schlafly Beer, St. Louis
Great Divide Brewing Co., Denver
Anchor Brewing Co., San Francisco
Contrary to popular belief, drinking a lot of beer is not the only point of a beer festival.
Free State Brewery owner Chuck Magerl says Lawrence's inaugural Kansas Craft Brewers Exposition, Saturday from 1 p.m. to 5 p.m. at Abe & Jake's Landing, 8 E. Sixth St., is a chance for attendees to not only taste different craft beers, but also learn about the brewing process from artisans whose tools include hops and barley.
"This is a time for beer producers and beer enthusiasts to socialize," says Magerl. "It's a chance for brewers to get together with each other and for them to share stories with current and new customers."
The sold-out expo, organized by the Kansas Craft Brewer's Guild and Downtown Lawrence Inc., will feature samples of craft beers from more than 20 Midwest brewers, and from several brewers from Colorado and California. If all goes well, Magerl says the expo could become an annual event.
Unlike your average Budweiser, craft beers are produced in comparatively small, independently owned production facilities. Craft beer brewers use traditional ingredients and methods, meaning their brews are malt-based and do not rely on large amounts of sugar or corn.
"A lot of what is special about craft beer are the stories behind the beers," says Magerl. "There is a sense of artisanship. You know that a human being is engaged in the process and that it's not just coming out of a pipe at a production facility."
Magerl says some breweries often use events like the expo to sample new brews, and some beer geeks will likely get to taste beers that have yet to be tapped for the masses.
John Dean, brewmaster for Topeka's Blind Tiger Brewery, says he will likely pour the new West Coast-style Top Gun IPA , in addition to a regular festival favorite, the robust Java Porter, which the brewery calls a "breakfast beer."
"It used to be where we just educated the public about craft beer at festivals," Dean says. "But these days customers know what they're looking for, and they demand excellence. That's a good thing."
Joe Bathke of Baldwin City says he is looking forward to trying beers that are difficult to find in the area.
"This is particularly important for microbreweries such as Little Apple Brewing Company from Manhattan, Nebraska Brewing Company and LB Brewing from Hays," says Bathke, who writes a beer blog, weblogbeers.com. "You can't just find these down at the corner liquor store."
He says it is exciting to see Kansas and regional breweries getting their due.
"We are making some damn good beer out here in the flyover states, and it is time we stopped keeping it a secret," he says.