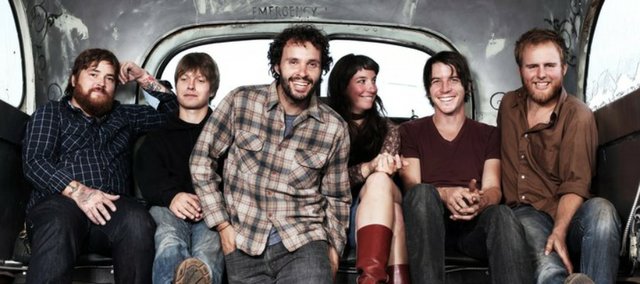 Wednesday, February 29, 2012
Even though it's felt like spring all winter long, the folks in Blind Pilot won't be among those breaking out the bicycles to enjoy the sunshine.
The Portland, Oregon-based indie folk band known for gentle melodies and touring by bicycle with handcrafted instrument carts will play the Granada March 3. While they're not employing any touring gimmicks or unique methods of transportation this time around, the band is gaining attention for the right reason: its music.
Blind Pilot recently released "We are the Tide," its sophomore album. It debuted at No. 56 on the Billboard Top 200 chart and No. 22 on the overall digital albums chart. They've also got plugs from some well-connected folks. National Public Radio's "First Listen" music series recently devoted time to the band and they played The Late Show with David Letterman. The outfit played Lollapalooza in 2009 and has scheduled a handful of other big draw festivals, but is currently touring clubs throughout the country. Their date at the Granada will come near the end of the tour, after a swing of gigs through the South. Founding member, guitarist, vocalist and songwriter Israel Nebeker recently spoke with Lawrence.com about touring, writing a new album, alternative modes of transportation and going from only two to nearly a dozen people sharing the stage.
Past Event
Saturday, March 3, 2012, 9 p.m.
Granada, 1020 Mass., Lawrence
All ages / $12 - $13
Mike Krings: So where are you guys at right now?
Israel Nebeker: We are in Tallahassee.
MK: How has the tour gone thus far, and how are the crowds reacting to the new material?
IN: Pretty good, it's been a really good tour. We're doing just the four of us, where we did a tour from, you know, the West Coast to the East Coast and back, doing the bigger cities, you know, and I really enjoy this kind of tour where we're hitting all the places where we didn't go last time. We're playing some smaller venues and so I like playing those different kinds of shows.
MK: You've played some high profile gigs like Letterman and Lollapalooza, and have some big ones coming up like Bonnaroo. How do those compare to smaller, more intimate shows like the upcoming one in Lawrence?
IN: I like both. I'm really not sure if members of the band prefer one or the other, but I do like both. There's something that happens after about 1,000 people, where the crowd just kind of becomes one, starts to look like this one thing. There's not as many individual faces. In smaller crowds you really feel, it's almost a little bit more intimidating. You see each individual face. I like that. It's like you're more right there, with them.
MK: Have you played Lawrence before?
IN: Um yeah, we have once before. And it was at I think the bottle, um…
MK: The Bottleneck.
IN: Yeah.
MK: How'd that go?
IN: It was great. I mean, the crowd was really, really fun. And I really liked that town. I had never been there, had never you know, heard much about it. But we got to spend the day there and it was one of the best days of the tour, just walking around in that area. It was really great.
MK: In describing "We are the Tide" you've said the songwriting was a challenge because you'd never written in that atmosphere before. What was the atmosphere to which you were referring, and what do you think that challenge did for the music?
IN: Just the atmosphere of playing simple, knowing people were gonna hear the songs, you know. Every song that I wrote on the first album, you know, I knew I'd probably show it to people close to me. My sister, or maybe to some friends, and play them at some coffee shops or small shows, but the idea of just knowing that there were people anticipating the release of the album was awesome. It was just the greatest thing ever. It was real different. I think the biggest difference was just, for me, when I write a song, there's always that question of "do you create because you're doing it for yourself, self therapy or something, or are you doing it to communicate to other people?" And I think that it always lies somewhere in between for me. But just knowing there were a lot of people waiting just drove me as much toward that other side as, you know, not necessarily writing for myself or what's going on with me. Thinking "how's this going to come out on stage?" And then I'd just have to stop and come back the next day and try again to make a song without putting out those sorts of things.
MK: Blind Pilot has done some creative things like taking a bicycle tour and transporting your instruments on specially created trailers. How did that idea come about, and do you have any similar ideas for the future?
IN: Yeah, well, in the case of the bike tour, that was when we got started. (Co-founding member) Ryan (Dobrowski) and me were both playing in different Portland bands. Portland has a really great music scene. We started playing together and the sun was coming up and we had the idea to, just kind of, go on an adventure and we thought it would be a good way to test out the songs that we were playing. Because we were being forced to play in smaller towns and for whoever would listen, going by bike 50 to 80 miles in a day and so it was, I think, just the biggest factor was to see what would happen. To see if we could connect with people. And it was some of the most fun we'd had playing music, so we kept going with it and made an album, and we're still going off of it. But, as far as if we're going to do anything like that again, it's funny because at the time, I think that our reasons were pretty good for doing the bike tour, but then it became the story, and now it's something, we don't really want that to define us. And we definitely don't want it to be seen as a gimmick or anything. At the time we were completely unknown and nobody was picking up the story. We were just doing it.
MK: There's an old saying that you have your whole life to write your debut album and only two years to write your second. How would you compare the experience of writing and recording "We are the Tide" to your debut "3 Rounds and a Sound?"
IN: It's funny, there were a lot of years between, I think "3 Rounds and a Sound" came out in 2008 and "We are the Tide" was 2011, so that's several years. The funny thing is we were just touring nonstop, we were never at home. We all moved out of our apartments back home and were on the road all the time, so there was never a lot of time to write, which is really strange for me, because I'd never gone that long without having that space to write. I think, for me, an album just represents a certain period in time, and hopefully it captures it in a way that encompasses that time in your life and "3 Rounds" doesn't feel that way to me, it doesn't feel like my whole life, it was just a couple of years before.
MK: You've added some touring members since you got started. How else would you say your show and overall sound has evolved?
IN: We, after recording our first album, invited all the musicians that played on it to come and play and then we invited more people too, I think 11 in total. And it was so much fun. That was the first show that Ryan and I had done that wasn't just the two of us, and it's kind of impossible not to have a great time with 11 people on stage. So we did that for about a year, and it was a blast, and it when it came time to tour, we just invited, it ended up being six people. It really changed what we were doing. Luckily, all the musicians blended really well. They're all really great and talented musicians with a lot of chops, so I feel lucky that we could get them on the tour. That helped a lot, just to keep the general feel of what we were doing, and it makes it more exciting for the live show.
MK: The Lawrence show is near the end of the tour. What are your plans after that?
IN: Right after we get home, I think we're home for three days, then we go to Singapore, or somewhere over there. And then we have some time off until summer. Then we'll go and do the festivals and things like that.
MK: So what would you say people can expect at your Granada show?
IN: A good time, I hope. I'm never good at that question because we're not really a theatrical band. We're just kind of straight forward and try to have as good of a time as possible while we're on stage and connect with the audience as much as we can.