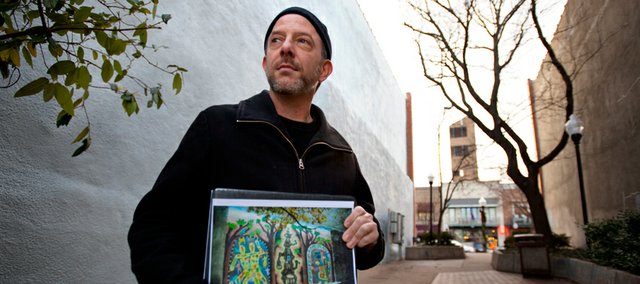 Thursday, January 5, 2012
For 18 years, the vibrant colors of a community mural greeted anyone going through the walkway between 716 Mass. and 722 Mass.
But recent repair work to fix a crumbling wall on the building that houses Signs of Life covered up the well-known mural, leaving a stark white canvas.
And people noticed the absence of the mural that had become part of the downtown Lawrence culture.
Local artist Dave Loewenstein, who organized the mural painting nearly two decades ago, said he immediately received calls from people wanting to know what happened.
The mural "becomes like an old tree," Loewenstein said. "They become sort of the place."
Standing in front of the now-blank wall, Loewenstein talked affectionately about creating the mural, named "The Guardians of the Arts." The idea was hatched by about two dozen community members, and aimed to celebrate the local Harvest of the Arts festival.
Loewenstein estimated that hundreds of local residents played some part in the mural.
"Anybody who walked by this alleyway, we tried to drag over and get a few brush strokes in," he said.
It's that community connection that has Loewenstein and Signs of Life owner Clay Belcher brainstorming ways to either re-create the original mural, or to come up with a new mural for the space.
"We're absolutely open to doing something," said Belcher, who explained that the $30,000 repairs to the building were needed, as chunks of the wall were falling off.
Ideas are in the preliminary stages, but Belcher said they're hatching ways to pay for the supplies, estimated to cost about $1,000, while Loewenstein said he'd donate the labor.
If the community wants the old mural back, Loewenstein, who now paints murals across the country, said he's happy to do that. But he's also open to some new form of collaboration.
Either way, Loewenstein said they'll work hard to figure out a way to add the color back into the walkway.
"Without it, these places are sort of empty of human presence," he said.