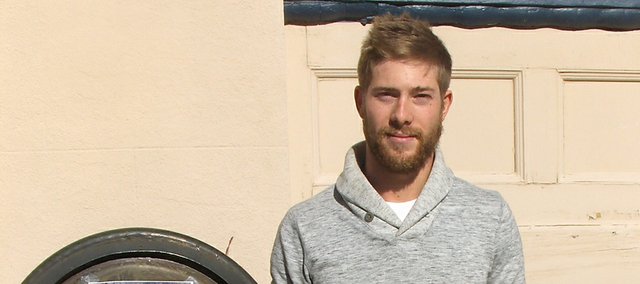 Thursday, January 5, 2012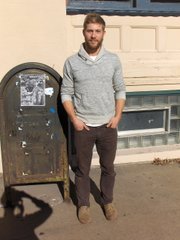 Name: Daniel Hoyt
Age: 26
Relationship status: Single
Hometown: Omaha, Neb.
Time in Lawrence: 7 years
Occupation: Carpenter at Struct/Restruct
Dream job: To be a furniture designer
What were you doing when scouted? Reading the Lawrence Journal-World and having coffee at Henry's.
How would you describe your style? It depends on what kind of event or activity I am dressing for. I usually wear casual sturdy clothes to work. Going out, I like to dress up a bit with collared shirts and possibly a tie. I always think the fit of a garment is the most important point.
Current favorite fashion trends? When a person dresses truly to themselves, with authenticity and creativity.
Fashion trends you hate? I am not visually or mentally stimulated when I see a person who seems to follow a basic formula when dressing, using the same colors and silhouettes and following trends that they see in the popular culture.
What would you like to see more of in Lawrence? More people biking and more bike lanes.
What would you like to see less of in Lawrence? Less driving and general laziness.
Do you have any piercings or tattoos? I am in the market for a well-done mermaid tattoo, and I am always writing lists and self-reminders on my hands, so I would like to get a tattoo on my left hand of things I would like to accomplish in life, and then get each one erased or crossed off as I do them.
Do you resemble someone? My friends say I look like Tom Cruise, probably from the "Top Gun" years.
More like this story on Lawrence.com