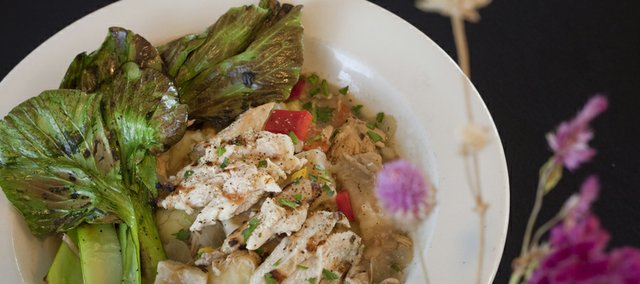 Tuesday, January 10, 2012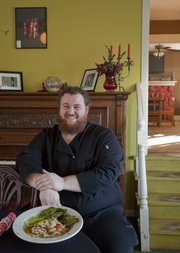 Sometimes, local food isn't the most accessible sustenance.
Just a strange quirk brought on by a lifetime of grocery trips, mental hurdles and inconsistent supply.
But Chris Feaster wants to change all that.
The Baldwin City restaurateur aims to show just how easy — and affordable — a locally sourced plate of food can be obtained, nothing but taste required.
Following in the success of his similarly themed stall at the Lawrence Farmers' Market, Feaster and wife Maggie Beedles opened Feaster's Bistro in September. The restaurant, which sits at Baldwin's highway stoplight, 519 Ames St., is farm-to-table dining, no frills needed. In a phrase, it's meant to be a local bounty — one seasonable, affordable (the most expensive item right now is the $11.50 dinner portion of the elk meatloaf), accessible plate at a time.
"My main goal is just providing the best possible local food experience for people to come in," Feaster says. "And whether they're in the local food movement or just want good food, having them come in and feel nurtured and feel at home, feel welcome and having an incredibly good dining experience, without having to pay too much."
Starting small in a stall
Feaster started cooking while in college at Kansas University, and before long, knew he enjoyed his side job more than what he had gone there to study. He packed his bags for Arizona, where he trained and worked for nearly a decade before moving back to Lawrence to pursue a career in his other love, music.
"I was just trying to pass the time," he says, "but every time I would get a new cooking job, I was like, 'I really do love doing this.'"
After a short stint in Colorado, Feaster and Beedles and kids returned to Lawrence, where he took a job cooking for college kids at Triangle Fraternity. Then, in the spring, he decided to take the show on the road, cooking breakfast at the Lawrence Farmers' Market.
"We started that because we love to go to the Farmers' Market but we would go and either we would not have had breakfast and had wanted to grab something at the Farmers' Market but all that was available were sweet treats — the worst way to start our weekend with our kids — or the hot foods, (which) were not made from local ingredients," Beedles says. "And we're like, 'Somebody needs to do something about this.' And then, 'Why don't we do something about this?'"
They struck up relationships with local vendors and began to heavily use Farmers' Market fare within their offerings. Quickly, Feaster became confident enough to start researching restaurant prospects. Craigslist ended up providing him information about the space in Baldwin, but even with all the pieces falling in place, starting up his own restaurant and leaving his steady job at the fraternity was, admittedly, a scary proposition for a man with a wife and three kids.
"It was a big leap of faith. I still question whether or not I made the right decision," he says, laughing, adding that because of the price point, he's not getting rich by any means.
'Tornado of energy'
Feaster had just a week between his end date at the fraternity and the restaurant's grand opening. Friends came to help with marathon work days and Beedles and the kids did what they could, preparing the space with antiques, decorations and other start-up essentials.
"At that point, it became a tremendous tornado of energy having to create a menu, getting all our food purveyors lined out, getting menus printed, getting this place clean," he says.
The final set up, true to the close-knit family's nature, is laid out in such a way that both people dining with children and those without can dine happily. Feaster's has two dining rooms — one for dining families with an access to a play room, and a separate dining room for those looking for a quieter lunch or dinner experience. Beedles says that she's hoping customers appreciate the extra care.
"We love to eat out, but we have a really hard time because we have three young kids and we go places and just try to eat so quickly and then get back out. There needs to be another family-friendly kind of thing to do — give McDonald's play land a run for its money, basically," Beedles says. "And so, that's why we have a play room here. We're trying to be as family friendly as possible and then also cater to meeting the niche that our family would try to eat."
The couple is quick to point out that that niche isn't overzealous. They say eating local isn't an all-or-nothing proposition — something they hope to pass along to their customers.
"My vision is to get people interested in purchasing as much local as possible," Feaster says. "And not feeling like they have to go all local and have to be fanatical about it, so they set themselves up for failure when they can't do it."
Among the seasonal items currently on the menu? Chicken and dumplings featuring Clark Family Farms' chicken, the aforementioned elk meatloaf with blackberry gravy (one of the most popular items, it features Rocky Hills Elk Ranch's meat) and spaghetti and meatballs made with M & J Ranch beef.
Margaret Clark of Clark Family Farms says that supplying to Feasters and other restaurant customers (Pachamama's and Lawrence Memorial Hospital) has really changed her business for the better.
"It gives us a year-round outlet because Farmers' Market is April to November. There's a few people who call us and I deliver chicken to them when I got to town for groceries and things like that but having a restaurant makes a more steady sales opportunity for us," Clark says, adding, "I can sell chickens to Feaster's, Feaster's sells a cooked meal to someone (and) more money stays in the local economy."