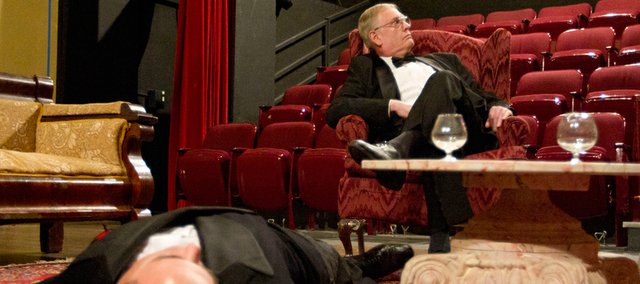 Thursday, January 12, 2012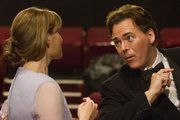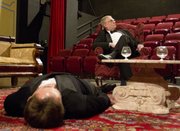 Shawn Trimble stalks across Theatre Lawrence's stage clutching a plastic pistol. He points it clumsily at Amber Dickinson and clicks the trigger.
"That's why actors like murder mysteries," says director Doug Weaver. "They get to play with guns."
Weaver is directing Theatre Lawrence's next production, "Bloody Murder," which debuts 7:30 p.m., Jan. 20 at Theatre Lawrence, 1501 N.H.
"Bloody Murder" is essentially a parody of every story ever written by Agatha Christie.
"This is a true take off on all of the Agatha Christie stories," says Weaver. "It has every silly, cliche character she ever had — and she had lots."
All of the principle players gather for a party — the countess, the major, the clumsy inspector, the degenerate nephew and the drunken leading man, to name a few.
Trimble will be playing Devon Tremaine, the drunken actor.
"I'm playing an actor at the end of a career, which he has self sabotaged by drinking inordinate amounts of Bourbon and whiskey," says Trimble.
Trimble says the role's fluidity make it fun.
"I could trip on stage and blame it on the character," he says.
Three fourths of "Bloody Murder" runs like an Agatha Christie play: all of the characters wait at an English country estate where they die one by one until the murderer is revealed. But near the end of "Bloody Murder" things teeter a different direction. The play transforms into a piece of metafiction, where the characters become intensely self reflective and aware.
"The twist in this production isn't the reveal of who the killer is," says Weaver. But he's is careful not to indulge too thoroughly so as not to spoil the end for potential viewers. What Weaver does say is that the playwright, Ed Sala, is probably deeply familiar with absurdist theater and works by writers like Samuel Becket.
Weaver has directed more than 80 productions. And he says rehearsals for each play are different. For instance, "Bloody Murder" requires a particular emphasis on timing and movement, and less focus on character development. "There are a few key moments that have to be executed perfectly or the comedy will fall flat," Weaver says. In addition, because the play includes many murders, technical aspects, such as the sound of the gun, become important.
"It has to be loud enough to sound authentic, but not too loud to startle your audience," says Weaver.
The "Bloody Murder" cast includes many faces familiar to Lawrence's theater scene, including Amber Dickinson, who starred in Theatre Lawrence's "Chicago," last summer. In "Bloody Murder" Dickinson plays Emma Reese, a doe-eyed starlet who is tied to a chair for most of the second act.
"From an actor's perspective it's great because there is less blocking to memorize," says Dickinson. "On the other hand, you have to think about what you can be doing to remain pertinent. You don't want to become a piece of the scenery."
Dickinson has had some fun with her role as Emma primarily because she's working with such a great cast.
"Getting to spend time with fun, gracious and talented people is the best part of this role," says Dickinson.
Dickinson plays two parts and dies at least once. Finding ways to dramatize a character's death is fun, says Dickinson.
"Making death funny entails making it a over-the-top in order to emphasize the humor and minimize the seriousness of the situation," says Dickinson.
To die in a comical way, Dickinson recommends noises, making the death linger beyond a reasonable length and giving extended "death rattles."
More like this story on Lawrence.com