Thursday, January 12, 2012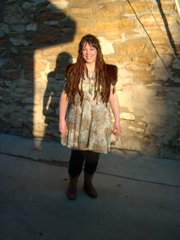 Name: Erin Shadensack
Age: 29
Relationship status: Single
Hometown: Hannibal, Mo.
Time in Lawrence: Six years
Occupation: Bartender at the Replay, 946 Mass.
Dream job: Travel agent
What were you doing when scouted? Enjoying the weather on the patio at the Bourgeois Pig
How would you describe your style? I like wearing feminine, romantic pieces with a Western influence. I love vintage styles.
Current favorite fashion trends? I love boots with anything, layered with tights. On guys, I like button-down collared shirts, also with a Western flair. I like plaid button-down shirts as well. On women, vintage dresses and big hair styles. I enjoy seeing a variety of accessories.
Fashion trends you hate? Sweatpants with writing on the back, Loony Tunes T-shirts, and popped collars on polo shirts.
Fashion influences? Jackie Kennedy Onassis and Peggy Bundy.
What would you like to see more of in Lawrence? More individuality in personal styles and schools of thought. I would like to see more people wearing suits and more moustaches.
What would you like to see less of in Lawrence? I don't like the hair styles on women that are put up in a bun but are still messy. I hate Uggs and Crocs!
Do you have any piercings or tattoos? I have gauged ears and I have eight tattoos.
People say I look like: The girl from 4 Non Blondes and Bob Marley.
Tell us a secret: I collect unicorns!