Thursday, January 12, 2012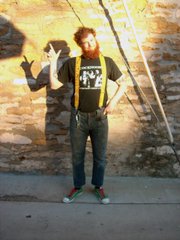 Name: Joel Brummett
Age: 24
Sign: Virgo
Relationship status: Constantly confused
Hometown: Lawrence
Time in Lawrence: My whole life
Occupation: Musician-artist-writer, convertible enthusiast
Dream job: Musician or expert marksman
What were you doing when scouted? Misbehaving
How would you describe your style? Wizard/cow punk
Current favorite fashion trends? Beards
Fashion trends you hate? It's Brothers, high rise jeans (they're too distracting) and cool people leaving Lawrence.
Fashion influences? Cactus Jack, Hank, Brook Blanche, Alf, and Elf
What would you like to see more of in Lawrence? A metro system, state-wide and work.
Less of? Doug Compton and hotels at Ninth and New Hampshire streets.
People say I look like: Tevye from "Fiddler on the Roof"
Tell us a secret: I'm having a house show featuring Monzie Leo on the 27th.