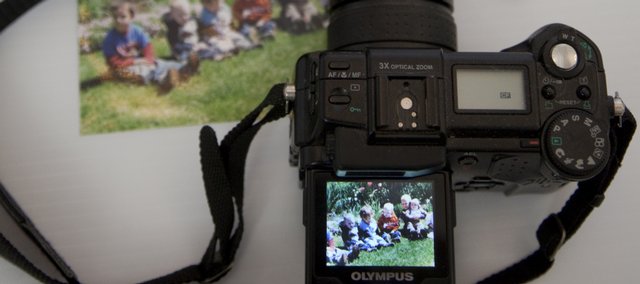 Last week I described using a film scanner or a lab service to convert 35 mm slides and negatives into digital files. Once scanned and on your computer, the files can be shared easily with others or moved to other media formats. If you have a collection of photographic prints but no original negatives, you have two similar options: You can use a flatbed scanner or you can re-photograph the documents with a digital camera.
Flatbed scanners can be stand-alone units, similar to film scanners, or can be an included feature in many of today's multifunction printers. These all-in-one devices have the ability to print, scan, copy and sometimes fax. Some models may even incorporate a drawer or tray to accommodate negatives and slides for scanning, offering the best of both worlds for converting prints and negatives. For most photo hobbyists, getting an all-in-one printer/scanner could be a great choice. Because most decks or scan surfaces on these devices are standard letter size (A4), you could easily scan material up to 8 inches by 10 inches. To research models or learn more about scanning, go to printscan.about.com.
If you don't like the idea of messing with another home/office machine, the simplest option is to use your point-and-shoot digital camera as your scanning device. Most of today's point-and-shoot cameras will have a large enough megapixel capture to acquire a digital file capable of at least an 8-inch-by-10-inch print and certainly any other computer/Web use you may have. Here are some tips on how to get the best results photographing photo prints with a digital camera:
Place the print in an evenly lit area. To provide more light, place the print between two lamps of equal illumination or seek out a spot with naturally even lighting like soft shade.
Glossy prints and photos behind glass will reflect light off their surface, so you will have to experiment with positioning of the print to avoid glare. If possible take prints out of glass frames. The two-light approach can also help eliminate glare. Placing the light sources closer and to the side or a 45-degree angle of a print can further reduce reflections.
Set your camera to the highest quality resolution and the lowest ISO and turn off the flash.
Zoom your lens to fill the entire camera frame with the print to be photographed. If it is a really small print, you may need to use your camera's macro mode, but don't get so close that you block your light source.
Use a tripod to ensure a steady shot.
This technique is simple yet can provide decent results. If you have neither a flatbed scanner or a point-and-shoot camera, use your smartphone camera in a pinch.