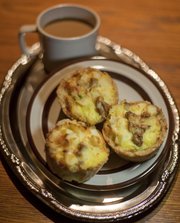 The very idea of dealing with something as temperamental as pie crust is enough to make many novice bakers turn in their aprons. Throw in a need for gluten-free nutrition, and you've got the potential for an uprising that has nothing to do with yeast.
There's no need to get crusty about crust, though. Here's a recipe that proves you can put "gluten-free" and "pie crust" in the same sentence as words like "easy" and "yummy." It's a very basic tart crust recipe used by lots of bakers, with just one modification.
I'm not going to tell you that these little breakfast pies are high on the health charts (Woo-hoo! Butter!), but they're small enough to pair with fresh fruit and still make a satisfying meal.
Start with one cup of gluten-free baking mix. I used Hodgson Mill's blend of millet, sorghum, brown rice and xanthan gum, but go ahead and use whatever bakes up (and tastes) to your specifications. Add 1/4 teaspoon of salt and stir it together. Cut one stick of cold, unsalted butter into little pieces and mix it into the flour with a pastry blender. Don't have a pastry blender? Use two butter knives in a crisscross motion, about 10 million times.
I'll be honest; the butter knives drove me nuts. I ended up using a balloon whisk, potato-masher style. It worked just fine.
Once the flour and butter look like large crumbs with a few peas thrown in, set it aside. In a small bowl, whisk together one egg yolk and two tablespoons of water. Save the egg white in a medium-sized bowl; you'll need it for the filling. Pour the egg water into the flour mixture and stir just until it all holds together. Press the dough (gently) into a ball, wrap it in plastic and refrigerate for 15 or so minutes.
In the meantime, preheat your oven to 425 degrees. Add three more eggs to your egg white, plus a few shakes of pepper and garlic powder. Dice four "heat and serve" breakfast sausages and toss them in with the eggs. Lacto-ovo vegetarians, feel free to substitute your favorite tofu version. Add two cups of frozen O'Brien potatoes, the kind with peppers and onions and 1/2 cup finely shredded cheddar cheese. Stir the heck out of it and set the bowl aside.
Crust time! Pull the dough out of the fridge and dig out your muffin pan. Break off ping-pong-ball-sized pieces of dough and mush them into the pan cavities. Don't worry about daintiness; you're not setting a broken leg. Press the dough right up to the rim, nice and thin, adding a bit here and there as needed. You should be able to line eight or nine muffin 'dents' before you run out of dough.
Give the filling mixture another stir and divide it evenly among the crusts. Bake for 20-25 minutes, until the egg is set and the tops start to brown. Breakfast is served!
Enjoy!