It's one of the easier places to miss on Kansas University's campus, so hidden that it completely eluded me for the four years I spent earning a bachelor's degree at KU.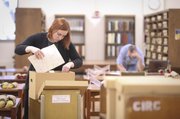 It is the Kenneth Spencer Research Library, and it is located squarely behind Strong Hall at 1450 Poplar Lane — "probably the shortest street on campus," says Spencer's head librarian, Beth Whittaker.
Fortunately, I became familiar with the building and its collection for a history assignment after returning to KU. My professor assigned the task of transcribing a primary source document, and I chose James Denver's diary. Denver, for whom the Colorado capital is named, was the first territorial governor of Kansas.
Spencer Research Library opened in 1968, a gift from Helen Spencer, who sought to honor her husband, Kenneth, founder of Spencer Chemical Company.
The couple met when they were undergraduates at KU during the 1920s and had no biological offspring. After Kenneth's death, "Helen wanted to make an impact on the university, so she approached the university and asked what their needs were," Whittaker says. "If the art museum is the Spencers' daughter, the library is their son."
Spencer Research Library is home to materials that span the course of human history and beyond — the library's collection of science fiction and fantasy literature is one of the largest in the country — and they are available to the public, although, unlike other libraries, they cannot be checked out.
Instead, researchers and members of the community can study and peruse the materials in the library's newly renovated reading room, made possible from a gift from Marilyn Stokstad, distinguished professor emerita of art history.
The library's collection is divided into three parts: University Archives, the Kansas Collection and Special Collections.
As its name implies, University Archives contains materials important to the history of the school, including a photograph of KU's first basketball team and an early advertisement for the university. The Sept. 12, 1866, promotion announced the school's opening and spelled out the price of admission. Tuition for the earliest Jayhawks was $10 a semester, though "soldiers' orphans" were admitted for free, and "clergymen's sons and daughters" could attend for $5 a term.
The Kansas Collection has a wide range of materials documenting the history of Kansas. In addition to James Denver's diary, there is a cache of more than 30,000 glass plate negatives from photographer Joseph Pennell, who worked in Junction City from the 1890s to the 1920s. Visitors to the library can also find an extensive selection of Emanuel Haldeman-Julius' "Little Blue Books" published in Girard beginning in the 1920s.
"These books were very popular and were important because Julius believed that all people should be exposed to good literature," Whittaker says. "The books were cheap enough, from 5 to 10 cents, so everyone could afford them, and were small enough so people could carry them around in their pockets. … They covered a wide range of subjects from literature to politics to religion to self-help books."
Since the 1980s, the library has been working to document the African-American experience in Kansas, and the library has accumulated a significant collection of personal and family papers.
"The power of the materials in this collection is that they depend on the community," says Deborah Dandridge, Kansas Collection librarian. "You get a totally different perspective (when you get materials from people) than when you get information from the government."
Dandridge is also working with the Dole Institute of Politics on a joint project to gather oral histories from World War II veterans residing in the area.
Special Collections at the library are "too numerous to try and list," Whittaker says, but include 12 cuneiform tablets dating back 4,000 years that are some of the earliest written material known to man.
Other ancient treasures include an Egyptian Amduat papyrus scroll and several hundred hand-painted manuscripts from the medieval and Renaissance time periods.
Also noteworthy in the Spencer's vast Special Collection is its array of Irish literature, including more than 900 items related to James Joyce, papers and ephemera associated with poet W.B. Yeats, and the O'Hegarty Collection of about 25,000 items of Irish literature, history, and politics.
"We probably have the largest collection of Irish literature outside Ireland," Whittaker says.
The library holds the Summerfield Collection, an extensive assortment of European books printed before 1700, as well as materials from the 19th-century English ornithologist John Gould, whose work is referenced in Darwin's On the Origin of Species.
It may be tempting at this point to brush off the collections at the Spencer as the stuff of scholars, ancient history with little relevance to today's world, but nothing could be further from the truth.
Consider the energy presidential candidate Ron Paul has spent recently trying to distance himself from comments in various newsletters he edited throughout the 1980s and 1990s. Many of these newsletters contain extreme statements about African-Americans and homosexuals — and they can be found at the Spencer Research Library's Wilcox Collection, the largest catalogued library collection of material from political fringe in the U.S., and started by former KU student Laird Wilcox, whose interest in political movements began when he was a child.
"My interest has always centered around why people believe what they do," he says. "Specifically what they believe is less important."
Wilcox's interest in political extremism started when he was a child during the 1950s.
"I grew up in a family where there was a lot of political intensity. I had two aunts who were active. One was actually a member of the Communist Party with her husband, and the other was quite conservative — her husband was a military officer, and at one time they were briefly members of the (anti-communist) John Birch Society. The aunts actually got along fairly well, and I got along with both of them," he says.
Wilcox believes that as long as "we remain free and are able to discuss and debate openly," America will remain healthy.
"Taboos, correctness and censorship are bad for a free society," he says.
Debate, discussion and access to information are what the materials at the Spencer Research Library are all about. The library is a treasure at KU, home to a rich assortment of materials. Kenneth and Helen Spencer would no doubt be proud of the range and depth of their insentient son, and the contribution he makes to our understanding of our state, our nation and our world.
More like this story on Lawrence.com