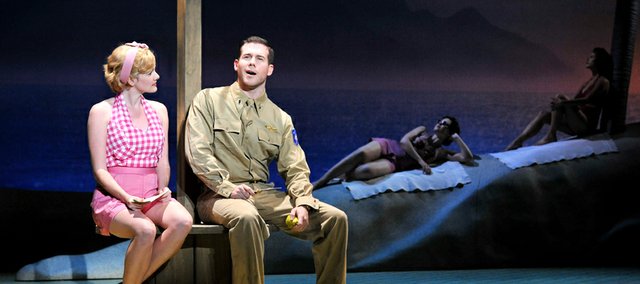 Tuesday, January 17, 2012
If you are planning to attend Wednesday night's production of Rodgers and Hammerstein's "South Pacific," 7:30 p.m. at the Lied Center, you might want to get to the theater early enough to participate in a discussion of the show by Kansas University professor of musicology and Broadway historian Paul Laird. Laird will lead a pre-performance discussion of the significance of Rodgers and Hammerstein, and a history of the creation of "South Pacific."

"South Pacific" is considered by most critics to be among the greatest musicals of the 20th century.
"Rodgers and Hammerstein were perhaps the most influential creative team in the history of the Broadway musical, and South Pacific was one of their most successful shows," said Laird. The original production won 10 Tony Awards, including best musical, and the 2008 Broadway revival, upon which Wednesday's performance is based, won seven Tonys.
It's easy to understand why the show was so successful when it opened on Broadway in 1949. Songs such as, "Some Enchanted Evening," "I'm Gonna Wash That Man Right Outta My Hair," "There is Nothin' Like a Dame," and "I'm in Love with a Wonderful Guy," transcend the musical, and are considered classics.
"(The show) is a terrific adaptation of the characters and situations from James Michener's 'Tales of the South Pacific'," said Laird. "A wonderful exploration of Americans in World War II fighting in that part of the world."
But, as Laird will point out during his discussion, there is more to "South Pacific" than its wonderful score, and the show is an important example of the American musical as an art form.
"Each song helps describe characters and move the plot forward," he said. "(Rodgers and Hammerstein) helped make Broadway musicals become more carefully integrated with music and dances that helped to tell the story."
The show remains relevant more than 60 years later because of what it says about racial attitudes in post World War II America, specifically how the show's two leading characters, Ensign Nellie Forbush and Lt. Joe Cable, struggle coming to terms with their own racial attitudes.
"The show includes a serious look at problems in American race relations, an unusual stance for a work rooted in American popular culture in 1949," Laird said. "It opened two years after Jackie Robinson broke the color line in Major League Baseball, but several years before the civil rights movement really began."
"The song 'You've Got To Be Carefully Taught' is a strident attack on racism," Laird said.

The American lieutenant, Cable, sings this song as a way to explain why he cannot marry a Polynesian woman he has fallen in love with, despite his feelings. "You've got to be carefully taught to hate and fear," Cable sings about the messages that are "drummed into people's heads year after year."
"Several observers told Rodgers and Hammerstein (the song) should be cut from the show," says Laird. "Their answer was that was the reason they wrote the show. That is a fascinating moment in the history of a commercial medium intended for entertainment."
Laird said that the writers' serious intentions when they wrote "South Pacific" helped pave the way for later musicals such as West Side Story and others that seek to make a social commentary.
Laird will speak in the Lied Center Pavilion at 6:30. His discussion is free and open to the public.

More like this story on Lawrence.com