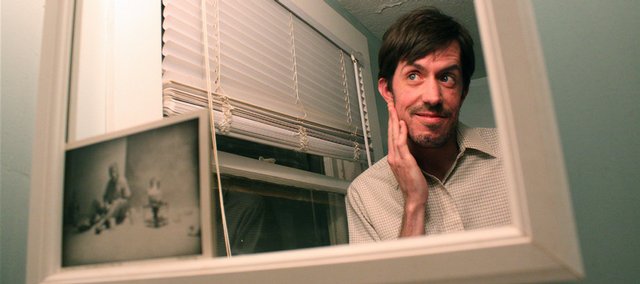 Originally published January 19, 2012 at 10:50 a.m., updated January 19, 2012 at 3:41 p.m.
Ben Ahlvers has nothing against Lawrence's downtown music scene. Quite the opposite. He has a lot of respect for it.
Even so, the Lawrence Arts Center's exhibitions director hopes a new concert series will change the way people think about music downtown.
Past Event
Saturday, January 21, 2012, 7:30 p.m.
Lawrence Arts Center, 940 New Hampshire St., Lawrence
Not available
Ahlvers says the goal of the new Nine Forty LIVE series at the Arts Center is to provide high-quality musical entertainment in a more laid-back, relaxed setting at earlier times in the evening than most downtown performances.
"What the Arts Center can bring to this is not only the venue," says Ahlvers, 37. "But with some of these groups, it'll be an introduction to people who use the Arts Center, our audience. It'll be an introduction of artists – musicians – that live and work in Lawrence that somebody my age or a little older might not be inclined to go to a club at 11 (p.m.) to go see."
The series, which kicks off at 7 p.m. Saturday at the Arts Center, 940 N.H., begins with a three-performance run. Future shows will feature Truckstop Honeymoon, a banjo-infused alt-country ensemble, and Hospital Ships, an ethereal, low-fi pop band. Tickets are $10 and may be purchased through the Lawrence Arts Center or at Love Garden Sounds, 822 Mass. Ahlvers says more shows may be announced in the future.
Performing the first night is the Danny Pound Revue, a group consisting of singer/songwriters Danny Pound, Arthur Dodge, Matt Suggs and Suzannah Johannes and a backing band. The show will include Pound's psychedelic rock vibes, Dodge's folk influences, the rasping whispers of Suggs voice and dulcet pop vocals of Johannes.
Pound says he's excited to be a part of the series' kick-off, and to perform in the theater space, which includes set designs by Ahlvers and Alicia Kelly, exceptional lighting and excellent sound equipment.
"It's a chance for me and Matt and Suzy and Arthur to have their stuff heard in an environment where people are going to be sitting there and listening to music," he says. "The theater is set up that way, so it'll be a chance to sing their songs. A lot of times, you play at bars and not everyone is there to see (the band). Everyone will have their chance to sing, and hopefully people will enjoy it."
Pound says playing this sort of venue should liven the show, and help the artists look for new ways to play their music.
"People who've seen us before know what to expect. We know what we're going to give them, but this will be something where we're not even sure what's going to happen, and that's exciting. Hopefully, some people who haven't seen us in any kind of setting will come and see us."
Dave Swenson, who will play guitar and keyboard in the backing band Saturday, says he's impressed with the way Ahlvers has let the musicians dictate performance details. He says he appreciates the risk the Arts Center is taking with a new show that's trying to reach new audiences.
"For him to really take a chance and say, 'I've got a great idea and I'd at least like to have an opportunity to fail,' and that the Arts Center is behind him – that's cool," Swenson says. "He's allowing the artists some freedom in exercising some control in developing what they want to do. I think, going forward, this could be a very fun thing, not just for the audience, but for the artists themselves."
Pound says he hopes the show has an organic feel to it – nothing contrived, but a warm, enjoyable experience that indulges the audience.
"What I always liked growing up as a kid was when everyone was just sitting around playing tunes, and people kind of passed the guitar around and there's a variety of (sounds)," he says. "Hopefully, we can recreate that on stage, that feeling. Just people playing music and people who like each other and want to share with people who come to the Arts Center."