Thursday, January 19, 2012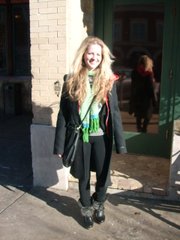 Name: Jessica Birney
Age: 19
Relationship status: Single
Hometown: Lawrence
Time in Lawrence: Practically all my life
Occupation: Looking for a job
Dream job: I would love to own my own bakery!
What were you doing when scouted? I'm meeting a friend at Free State Brewery
How would you describe your style? A little bit of everything, kind of edgy. In one word? Costumes.
Current favorite fashion trends: Sparkles!
Fashion trends you hate: Ballet flats
Fashion influences? '70s styles. I love looking at pictures of my mom from that decade.
What would you like to see more of in Lawrence? Wouldn't care to see anything changed, really.
Do you have any piercings or tattoos? Two of each.
Do they have significance? The bass guitar tattoo is because I play, and the seashell tattoo is because of the book entitled "Gift of the Sea."
People say I look like … Luna Lovegood.
Tell us a secret! I have a really big crush on a certain boy, but he doesn't know.