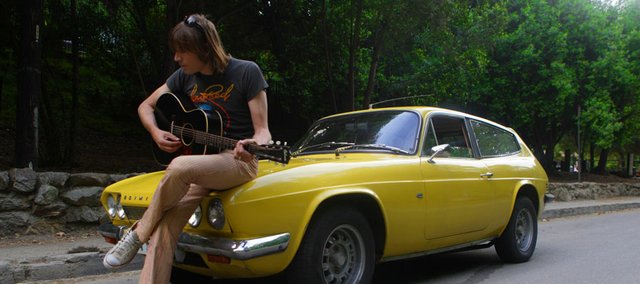 "Where are we playing this time, I wonder?"
Evan Dando begins a brief conversation with musings about Kansas.
I remind him it's The Granada, 1020 Mass., and that he'll be here Jan. 27. He's not familiar, but he remembers The Bottleneck, though he thinks it's in Kansas City.
"I always seem to have a pretty good time out there," he says.
Past Event
Friday, January 27, 2012, 9 p.m.
Granada, 1020 Mass., Lawrence
Not available / $15
As the only consistent member of the indie pop band the Lemonheads, he's been touring through the country — and Lawrence — on and off since its peak, MTV-video-inclusive fame in the early in 1990s.
Frontman and songwriter Dando had a grunge look — long hair, lots of flannel, the occasional on-stage dress — but a decidedly indie-pop sound. His 1992 album, "It's A Shame About Ray," including a bubbly cover of "Mrs. Robinson," brought him his biggest success and was reissued by Rhino in 2008. A 47-track compilation of the Lemonheads' tunes, beginning in 1986 and extending to today, called "Laughing All the Way to the Cleaners" is out this month.
Speaking from a tour stop in Connecticut, Dando talked about reviving "Shame," balancing catchy hooks with dark lyrical references and keeping things fresh after more than 20 years of touring.
Alex Garrison: What's the balance of the set list on this tour like — can we expect a lot of old songs mixed in with new?
Evan Dando: The whole tour is doing "It's A Shame About Ray" and whatever I feel like playing after that. That's the tour.
AG: With the work you've been doing lately — including this tour— do you feel you're reaching a new audience?
ED: Oh, yeah, definitely. We get people out who have never seen us before and mixed in are people who saw us the first time around. So that's really fun. It's a reason to keep playing, you know, to get people who've never seen us before and if they know what they're getting, they tend to want to come more – it's a nice little trick for old bands like us. The Pixies toured Doolittle for two years and it's just like something good to do.
AG: You're known for songs with a real, light pop sensibility — super catchy and fun. But in songs like "Rudderless" and "My Drug Buddy," the lyrics address some of the problems you've faced with drug addiction pretty head-on. How do you find a balance between those dark and light elements when you're writing and performing?
ED: I don't know, it just comes naturally to me, I think. "Shame About Ray" is a product of a trip to Australia in 1981 and I came back and a lot of the songs are about experiences and friends I had down there and about people down there that I met. It sort of has a happy/sad thing going for it and I think it's a unique record and I'm proud of it and that's why I can stand to still play it.
AG: One of my favorites is "Bit Part." I really like how your vocals work with the female vocals. Do you have someone to sing that part?
ED: The female vocal has its own place. We don't have a girl with us this time, so the crowd tends to sing that.
AG: For whom are you still making and playing music? What keeps you at it?
ED: I do it for myself, to work things out. To make something, it's a real joy to write something that's really just your own thing about things you've noticed or about people or just grabbing something – a feeling, it's cathartic, comforting thing for me, you know? And if you're in a band, you've gotta sing something, so you have to write songs and it's fun. yeah, I do it for myself. And to have something to play.
AG: And it's still fun?
ED: Yeah. Somehow I still like it. That's good, because I change members so much — it stays fresh that way.
AG: Anything more you'd like us to know?
ED: Meredith Sheldon is playing playing before us. She's great.
More like this story on Lawrence.com