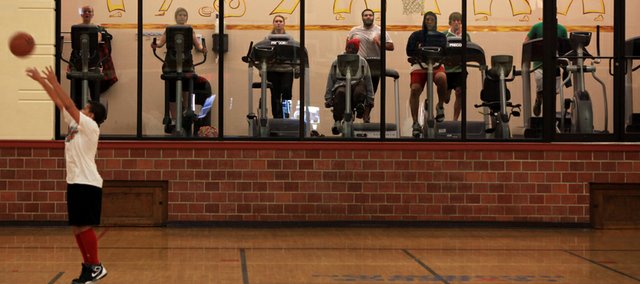 If you're planning to get fit in 2012, you may have decided a gym membership might help things along.
There are plenty of ways to go about getting your exercise and plenty of places to do it within Lawrence. Some outfits are exactly what many picture a gym to be — a place with weights and cardio machines — while others have more bells and whistles or a single, smaller focus.
We took a look at what types of workout spaces you can choose from if you happen to be in the market.
Traditional
Traditional gyms provide weights, cardio and possibly exercise classes. These gyms are typically full-service and you usually get full access to all parts of the gym during operating hours. Personal training sessions can be more.
Traditional gyms might also have a specialty element, but be traditional in every other way. For example, Body Boutique, 2330 Yale, is a traditional gym, though it is women-only.
Private
Private gyms require an extra element besides just a payment plan. In some cases, like Kansas University's Ambler Student Recreation Fitness Center, 1740 Watkins Center Drive, to be a member you (or a spouse or parent) must have an affiliation with KU.
Other gyms are private in the sense that it is a gym specifically used for personal training. Thus, to be a member, you must attend a certain number of personal training sessions per month. An example of this is Studio Alpha, 2449 Iowa.
Public
City-owned recreation facilities can be a budget option for those who can't afford traditional, private or specialty gyms. The only caveat? The hours can be limited.
Among the properties Lawrence residents have access to:
East Lawrence Recreation Center, 1245 E. 15th St. Has a full-size gym, a weight room and cardio equipment.
The Community Building, 115 W. 11th St. Has a full-size gym, a weight room, cardio equipment and a dance studio.
Holcom Park Recreation Center, 2700 W. 27th St. Has a full-size gym, a weight room, cardio equipment and a racquetball/handball court.
Specialty
These gyms are smaller, more targeted operations that may not feature the traditional weights and cardio machines. Rather, they may teach classes or focus on a specific skill. They include boxing gyms, yoga studios and name brands like Jazzercise and Curves.
Some have a flat per-month fee while others may charge by the session.
Other gyms may have specialty components, but not be total specialty outfits (see earlier mention of Body Boutique).
More like this story on Lawrence.com