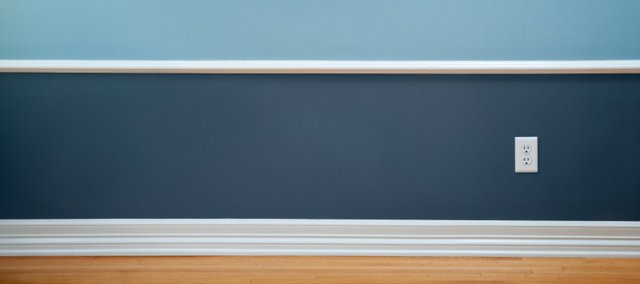 Installing quarter round molding along the baseboard of any room will provide a more finished look, while reducing unwanted air flow and eliminating hiding spots for unwelcome critters.
Step 1: Standard 3/4-inch toe stop is available in unfinished and pre-finished lengths at most hardware stores and lumber yards. Determine how much to purchase by measuring the perimeter of each room. Account for doorways and other openings, but allow extra for miscuts and installation tragedies.
Step 2: Paint or stain unfinished trim pieces to match the existing baseboard before installation.
Step 3: While the trim is drying, prepare the area for installation. Move furniture, vacuum the floor and wipe down existing baseboards with a damp cloth.
Step 4: Use finishing nails or wire gauge brads to install quarter round. The specific application will determine what length of nail is best. 1 1/4-inch nails will allow about a half inch of the nail to grab into the baseboard. Two-inch nails will go through the quarter round, past the baseboard and into the wall plate.
Step 5: Cut trim pieces to length where necessary. Use a miter box and saw to cut opposing 45 degree angles on each piece when two lengths meet up. Cut opposing 45 degree angles for inside and outside corners also. For inside corners, a more finished look can be achieved by butting one piece of quarter round up to the wall and using a coping saw to cut the end of the opposing length to mimic the outside curve of the quarter round. When done properly, the two pieces should meet in the corner seamlessly.
Step 6: For a more finished look where the quarter round meets up with a section of vertical trim, such as a doorway, miter the quarter round end at a 22.5-degree angle.
Step 7: For small jobs, using pine or birch quarter round, hammer the trim into place and use a nail set to drive each nail below the surface of the wood. If the trim is made of a hard wood, such as oak, pre-drill the nail holes to avoid splitting the wood. For larger jobs, renting an air compressor and finish nailer may be the best option.
Step 8: Once the trim has been installed, use tinted wood putty to fill the nail holes for a properly finished look.
More like this story on Lawrence.com